4 goals in Real's defeat against Valencia
Real Madrid received moderate third defeat in three weeks, after the trip to Valencia turnout. Unfortunately, this is a very bold defeats, with the score 1-4. It is a very strong blow to the pride of the Royal team Spain.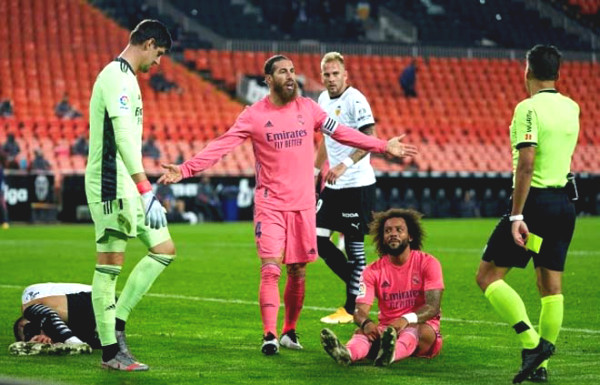 Real Madrid (pink shirt) undergo terrible defeat on the field Valencia
The way to defeat Valencia Real bitter truth. They bear to 3 penalty with which Carlos Soler becoming the first La Liga hat-trick penalty in the 21st century remains of Valencia table from your own goal Varane.
Meanwhile, Real Madrid scoring the opener of Benzema game opponent but was swimming upstream. This is the biggest defeat since the 1-5 defeat to Barca in January 10/2018, the game makes Lopetegui retrenched.
After the game, coach Zidane spoke accept responsibility and admit that Real Madrid need to improve defense after losing 14 goals in seven matches in all competitions last. Marca quoted the Frenchman: "3 penalties, 1 own goal, it is too much. Is my fault because I am the coach and I have to find a solution. I can not justify what has happened. "
Zidane said: "This is a bad day, I have no excuse at all. We need to improve the defense. I do not think Valencia better us in terms of strategy. We started well but everything changed after the first goal. it was hard to understand. But it is true that responsibility belongs to me completely. We need to find a solution after the goal they scored. "
Varane scored 2nd og 5 recent games in all competitions. Isco also a disappointing day of competition in attack. Spanish players are derived first from October, but only one shot and created one chance before being withdrawn from the field after 83 minutes.
Professional competence of the coach Zidane being questioned
But Zidane has defended Isco after the game: "Isco tried. He played as good as anyone else in the team. Eventually, everyone loses. This is not only known collectively blame one individual ".
However, since the source of Marca, presidents and stars Florentino Perez Real Madrid was not happy with the way players use Zidane. This match, "white vultures" without Eden Hazard and Casemiro for getting Covid-19. However, coach Zidane implementation phase alternating lineup fringed alleged "suicide", while Toni Kroos took Ferland Mendy and on the bench, to give a chance for the duo Marcelo and Isco.
Recent times Marcelo and Isco comes together, Real Madrid have received the first defeat of the season 2020/21, at home, lost 0-1 Cadiz in La Liga Round 6 Wednesday 17/10. That is nearly one month, this duo can not jointly own stone.
Capacity management and strategic thinking coach Zidane is being questioned. Even the news that President Perez is Mauricio Pochettino contact manager, ready to replace "Zizou" if the white team continues to receive the same failure.