After being detained for 32 days in prison Agrupacion Especializada in the capital, Asuncion (Paraguay) as doubtful use false passports unauthorized entry into the country, Ronaldinho and his brother Roberto de Assis Moreira is now judge Gustavo Amarilla reviews for bail after paying 1.6 million dollars bail.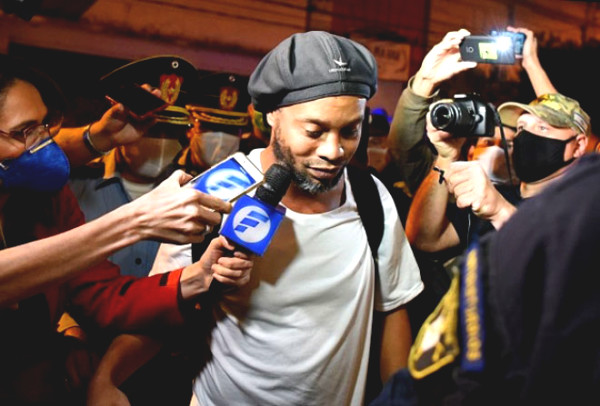 Ronaldinho and his brother had been released after more than one month in detention in Paraguay
Currently, Ronaldinho brothers are being at the 4-star hotel in Asuncion Palmaroga with good living conditions even though they remain tight police surveillance.
Former players of Barcelona and Brazil with his brother will still have to stand trial in Paraguay (expected in August of this year). The risk they have served jail 6 months on charges of using false passports and entry can even aggravating to 5 years if the investigating authorities find evidence that brothers Ronaldinho related to money laundering of Dalia Lopez - business woman escaping.
This woman was the main level 2 fake passport with Paraguayan nationality for Ronaldinho and his brother to enter this country 4/3 day (nominally to attend a charity event) that they arrested by police emergency level just 2 days later.
Recently, Ricardo Perrone - famous journalist of the portal e UOL (Brazil), who visited Ronaldinho in prison Agrupacion Especializada revealed circumstances can help the former "Golden Ball 2005" was reduced prison sentence:
"The lawyer said that (Roberto) De Assis (Ronaldinho brother) was informed that should have passports Paraguay because of the passport along for identification documents other, he can open a company in Paraguay and pay less in taxes over. things that will be very good for the business of cousins.
But in fact, what I know is to open a company in Paraguay, you do not need a passport that just have an ID (identification).
I do not know why he (Ronaldinho) still getting this passport because his ID information is more than enough to do so. This is quite strange, because to do this kind of ID to go through a long process, but he's got everything you need very quickly. Usually that process takes up to a year and we do not know why he did not notice that there's something wrong with that. "
Veteran journalist Ricardo Perrone disclose significant details about Ronaldinho's brother can be reduced jail when not understand the rule of law upon entry and set up companies in Paraguay
"The lawyer said Assis and Ronaldinho were asked about the passport there. They informed that passport good, original, and not know that they are false." - Perrone share.
Whether Ronaldinho brothers escape their detention but remains under house arrest from the police and the government of Paraguay. Authorities also are aggressively investigating this case as well as the determination to start by being Dalia Lopez - female suspects and witnesses is also important to determine the guilt of those involved.