An American-style shootout
Shootout distance of 11m from a procedure has become very familiar with football today and created a very high stress. Assertiveness, a thorough preparation, the element of chance had enough.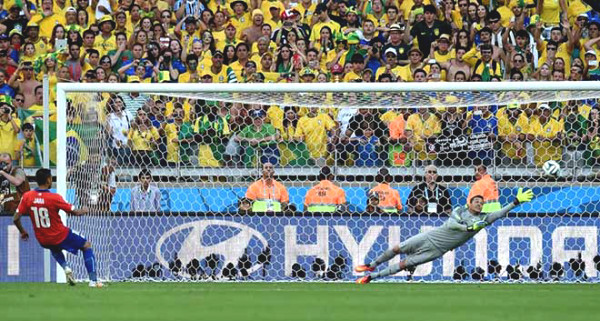 Shootout today is considered too simple and based on elements of chance
But American football has ever produced a penalty shootout almost completely different. Still 1-on-1, but instead of 11m, then the players will have 32m came from close range, within 5 seconds they are only 3 touches to execute the shot beat the keeper. A kick hit the goalkeeper who fail always turn out as well as Shootout 11m compensation would not have scored.
This shootout existence since the North American Football League was born in the 1970s, the league that Pele, Beckenbauer, Cruyff and Eusebio each stone. MLS professional American League for the period 1996 - 1999 also applies to this shootout before turning to apply the usual style shootout.
This is an initiative of Americans and seems more concerned about American football or being laughed at. But can say this style shootout extremely dramatic and even requires skill and psychological stability than 11m stone. The players will have to shadow a calculated way so not much time and limited number of touches, while the goalkeeper also be proactive to prevent the cassette rather stand in goal waiting for a shot.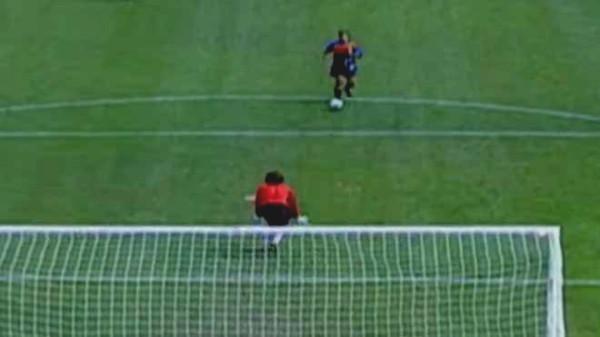 Shootout-style American football: Derived from 32m, 5 seconds to be processed 3 hit the goal
There have been many football fans expressed their excitement with style shootout, they said that the feeling a player came stormed toward the goal for the keeper to make a splash not unlike the challenge took on Ronaldo the Brazilian goalkeeper. Scoring also more diverse, round the keeper (even though this was the most difficult) or press the ball, wide stretch, swung wide enough, but the goalkeeper has more opportunities to make a clearance.
In fact in 2008, Marco Van Basten player list has proposed changing football shootout to this form when he was technical director at FIFA. Former Ballon Dutch have ideas difficult to implement, but this is pretty much recommended supporters, that such should shootout penalty also retains 11m range as often.
2017, FIFA has begun to weigh on the use of this penalty shootout for the World Cup in 2026, the tournament is expected to increase to 48 teams. FIFA currently no formal decision, but did not know until we will see this style shootout 6 years.