2017, the World Football Federation (FIFA) entangled in scandals related to spray foam - instruments help the referee marked the ball position and the players in each kick.
Pablo Silva and Haine Allemagne, who invented the idea of ​​spray foam sued FIFA to court in Rio de Janeiro, Brazil for infringements of the rights of intellectual property, it is expected the trial take place in the coming days.
FIFA hardships during the past 3 years due to lawsuits related to spray foam products
The idea was spray foam Allemagne conceived 14 years ago, began to apply in the Brazil, Argentina. After the 2014 World Cup, official product widely available in many countries. As revealed from Allemagne, former FIFA president - Sepp Blatter and former FIFA vice president - Julio Grondona each proposal he sold this idea for 40 million euros.
But the deal broke down because of Sepp Blatter entangled in corruption scandals, Grondona also died suddenly. Remarkably, FIFA still using spray foam in the 2018 World Cup under a different brand name. Action "legal risk" this blatant failed the eye of Allemagne.
"We were patient until you see their products appear in the World Cup 2018. My head exploded like that", Allemagne urgent statement on the newspaper AS (Spain).
Allemagne FIFA has recommended more than 40 million dollars compensation, fined 15,000 USD for each game using foam spray (approximately 100 million USD). Not stop there, "father" of spray foam also asked the court sentenced the officials concerned, including current president Gianni Infantino at 1 to 4 years for infringements of intellectual property rights Property: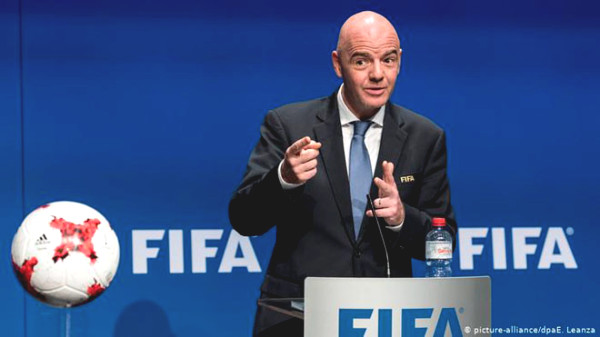 Many FIFA officials, including Gianni Infantino president can jail if lost
"We are awaiting the results of a trial, with the desire to Infantino and all the characters are related to prison, besides the recovery of the total aerosol foam used in the world," said Allemagne. Currently, he and his colleagues plan to continue to sue FIFA over the US Supreme Court.