Battle of Shandong Luneng - Hebei has 13 goals after 2 matches
China - Chinese Super League - Chinese Super League (CSL) planned to take place from 22/2/2020 to October 31, 2020, however due to the influence of Covid-19, BTC announced that the season will be divided into 2 stage.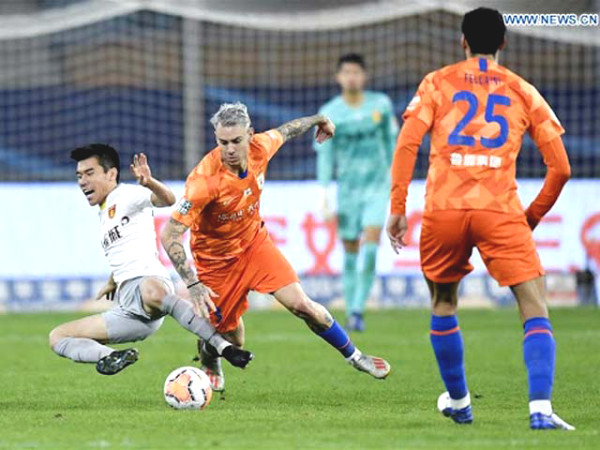 The match has 9 goals between Shandong Luneng and Hebei CFFC
At the beginning, starting on July 25, 2020 and ending on September 29, 2020, 16 teams will be divided into two groups, competing in circle forms (14 rounds). 4 teams with the highest ranking from each group will participate in the championship race. The remaining teams participated in relegation racing. Stage 2 started on October 16, 2020 and ended on 12/11/2020, competing in the form of direct type of two steps and returned.
The latest developments show that this tournament is creating "crazy" competition. In the last 10 matches, in both the championship and relegation, there were 14 red cards drawn (average 1.4 cards / matches), with 39 goals recorded (3.9 tables / Battle).
In these 10 matches, there are 3 matches that appear 3 red cards, 1 match of 2 red cards and 4 matches of red cards. All 3 matches with 3 red cards are confrontations in turn on the form of direct type. There are 5 red cards directly, which shows the drastic nature of these matches.
The 10 most recent matches in CSL appeared 14 red cards
One of the two matches did not appear red cards was the confrontation between Shandong Luneng and Hebei ended with 9 goals recorded, with the victory of Shandong Luneng (6-3). Former Premier Striker British Graziano Pelle contributed 1 goal of these, helping Shandong Luneng to continue with a total winning ratio 8-5.
Late goals and unpredictable matches are also another fascinating factor in these matches. According to statistics, there are 9 goals from 80 minutes into the game. Besides, there are 4 cases where the scoring team is not the final win.
The matches at CSL this year are going to an end. There have been 2 teams that reach the finals in the championship race, Guangzhou Evergrande Taobao and Jiangsu Suning. Should know, Guangzhou Evergrande Taobao is the defending champion of the prize.