According to Marca (Spain) striker Real Madrid star - Luka Jović received a subpoena and will have to appear for cross-examination before the prosecutor at the court in his homeland of Serbia in the near future.
The reason is because the rookie "blockbuster" worth 60 million euros team Royal Spanish has seriously violated the law when voluntarily left the place is self-isolation without declaration honest service between Covid-19 season.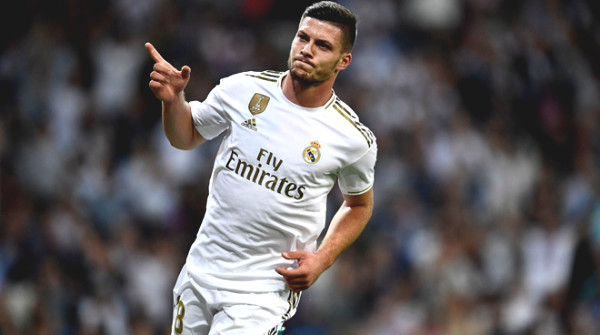 The star of Real Madrid- Luka Jović going to court and risk being sent to prison and 3 years
Under the laws of Serbia, lightest sentence with Jović was fined administrative 1,275 euros and harshest sentence is jail and 3 years if the court charged with deliberately leaving themselves isolated to the road increases the risk of infection dangerous diseases to the community.
Jović was discovered police misconduct on the day 18/3 when he flew from Madrid (Spain) to Belgrade (Serbia) to attend the 29th birthday of the beautiful girlfriend - supermodel compatriot Sofijia Milosevic. Only two days after the birthday party, Milosevic claimed that she was pregnant and the striker was on the payroll of Real expect their common child was born.
Jović are in love than his supermodel girlfriend to 7 years old - Sofijia Milosevic, who is now pregnant with his child
Jović insisted he thought he be allowed to leave home every day to buy necessities and just go to a pharmacy in his hometown after flying back from Madrid Belgrade last month. But maybe, the striker will have to pay extremely expensive in jail for 3 years only because humor beautiful girlfriend Sofijia Milosevic, if he and defense lawyer could not win alleged sentence in prison since prosecutors in the upcoming trial.
Before dating supermodel, Jović had a son named David with ex-girlfriend before parting Andela Manitasevic her in 2016. As regards incident striker wore the number 18 for Real Madrid escape isolation, the Prime Minister of Serbia - Ms. Ana Brnabic has vehemently criticized this behavior.
Teammates Jović in Tel Serbia - striker Aleksandar Prijovic also been sentenced to house arrest three months for violation of regulations limiting the streets when drinking with friends between season translate Covid-19 is spread in Europe.
Back to the case of Jović, since leaving Entracht Frankfurt - the team he played on loan from Benfica last summer to now, the color coat Real Madrid striker born in 1997 has yet to regain top form . New England only 2 goals in 24 games played for the "Los Blancos" in all arenas.