In La Liga day back after the impact of the pandemic Covid-19, group winners Barcelona easily destroy Mallorca 4-0 right away. Inspiration in the land of the victory of the team is none other Catalunya is Messi "supernatural".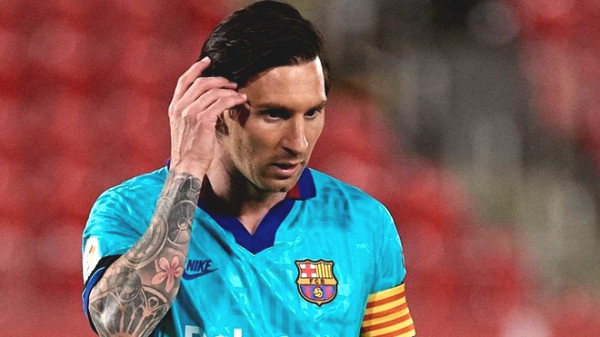 Messi scored 1 goal & 2 tectonic
With two tectonic phase and 1 goal, Messi was the Spanish press hailed with the most beautiful words. In that match, have afflicted Argentina superstar Mallorca defense with the ball shot goes familiar virtuosity.
After mixing up the 90 + 3 minutes, Messi was "pocket" of Messi's 20 goals in La Liga alone 2019/20. Statistics of Opta says this is the 12th consecutive season the Argentine superstar scored 20 goals, becoming the first player to do this in the history of La Liga league. Currently, Messi is still 10 games remaining in La Liga 2019/20 to improve their achievement.
In the 2011/12 season, Messi each scored present form with 50 goals terrible. This achievement is considered "unprecedented" in the history of the highest league Spain.
Back movements championship race this season, a 4-0 winner to help Barcelona continued to hold the top spot with 61 points after 28 matches. However, Real are still silently chasing behind with 59 points after a 3-1 win over Eibar.
In that game, Sergio Ramos is the captain who scored the biggest mark on the run 70m from the slotted home field increased the lead to 2-0. Meanwhile, Marcelo after scoring the third goal for Real Madrid in the 37th minute also celebrated situation to support the movement against racism worldwide.
However, the victory of Real Madrid to pay the price risk when Eden Hazard and Sergio Ramos were substituted early in 2nd half due to injury.
Before the match of Real Madrid striker Diego Costa scored his first goal since October but Atletico Madrid missed the chance to host the Top 4 being held off Athletic Bilbao 1-1.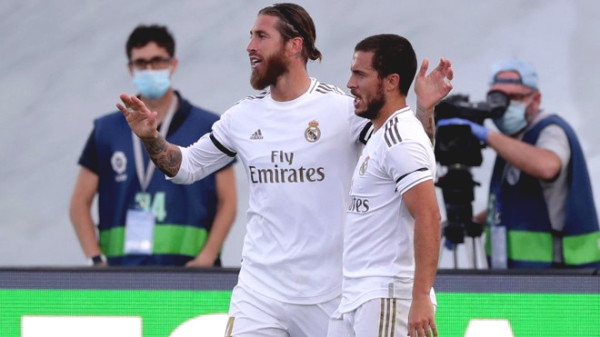 Ramos collaboration with Hazard to score
In a separate incident in the last group standings, Espanyol with a 2-0 win over Alaves are fighting relegation race that became more stressful. Specifically, there are five teams at the bottom distance less than a mere 4 points each. So the next stage promises to be extremely fierce when still 10 rounds again in sight.
La Liga Round 28 Results:
Getafe 2-1 Granada
Valencia 1-1 Levante
Alaves 2-0 Espanyol
Villarreal 0-1 Celta
Leganes 1-2 Valladolid
Mallorca 0-4 Barcelona
Bilbao 1-1 Atletico Madrid
Eibar 3-1 Real Madrid
Sociedad 1-1 Osasuna
La Liga standings after round 28: