Sparta Prague - AC Milan
AC Milan entered the Sparta Prague match with the goal of winning 3 points to hope to regain the top H from Lille's hand. However, coach Stefano Pioli suddenly launched a field with a team of young talents combined with players who cannot regularly play this season.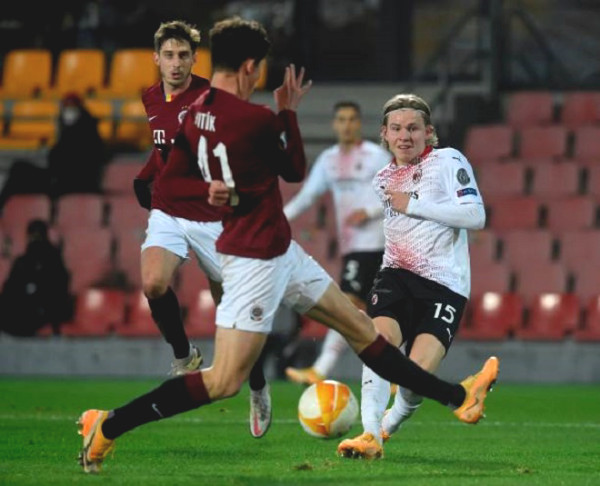 Young stars Petter Hauge (No. 15) scored the only goal to bring victory to AC Milan
Therefore, it was not surprised when Sparta Prague pressed the field right from the first minutes. With the formal being eliminated, the home team is comfortable and continuously placing AC Milan's players into support. In the match was somewhat lated, the visitors suddenly had a goal to open the score in the 23rd minute after him and the impressive score of the 21-year-old young player Petter Hauge.
The stuck opening goal helped AC Milan easier to kick. Meanwhile, Sparta Prague still hardened to attack the goal. However, the shadow on the home team did not have many mutations and susceptible to AC Milan defense. The 1-0 score was kept at the end of the first half.
Entering the second half, Sparta Prague still tried extremely hard to find a goal. While struggling to find a way into the goal of AC Milan, the home team had to play in a minute in the 77th minute. Dominik Plechaty had to receive a red card directly after a rude foul with Rafael Leao to stop the counter Public of the visitors.
Loss of people, Sparta Prague could not do anything but to suffer from the final defeat at home during the Farewell Day Europa League. This result helped AC Milan to win the Best Table H because in the remaining match, Lille suddenly failed 2-3 on Celtic pitch and accepted the second ranked with 11 points.
General: Sparta Praha 0-1 AC Milan (1st half: 0-1)
Scored:
AC Milan: Petter HAUGE 23 '
Red card:
Sparta Prague: Dominik Plechaty 77 '
Departure team:
Sparta Prague: Milan Heca, Vitik, Plechaty, Lischka, Wiesner, Sacek, Soucek, Karabec, Polidar, Minchev, Plavsic.
AC Milan: Tatarusanu, Dalot, Duarte, Kalulu, Conti, Maldini, Tonali, Krunic, Castillejo, Colombo, Hauge.