After heavy 2-8 defeat against Bayern Munich in the 2019/20 Champions League quarter-final, Barca internal churn with the decision to leave Lionel Messi. To replace Quique Setien in the "hot seat", new coach Ronald Koeman was also aggressive "cleanup" teams, as evidenced by the rumors concerning the future overcast by many pillars as Sergio Busquets, Ivan Rakitic or by Luis Suarez.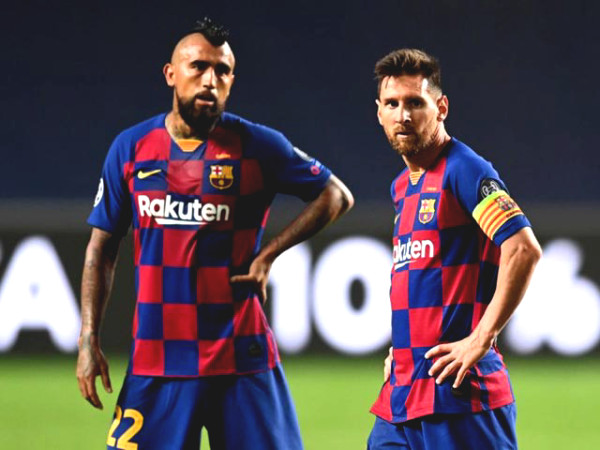 Barca are not retained individuality as in the past
In a speech recently, Arturo Vidal, who almost certainly will leave Barca this summer, there has been criticism of the system is crumbling Barca: "What is happening in the last 3 years is not what a team like Barca deserve. A top team can not only 13 professional players and the rest are minors.
Not because they do not deserve, but need to compete properly with their abilities, who stand out more. Each team has 23 players to compete for the position, progress and better every day. If you think the DNA of Barca always wins, they're wrong. They have many excellent players, including aliens like Lionel Messi. But as good as Messi also need significant assistance from teammates.
Barca first need to change the thinking football. Football has evolved a lot, and the DNA of Barca lag. The rivals are more advanced than in many other ways. Football now requires physical strength, speed and greater strength. Sometimes technique is secondary. "
Besides, Vidal also complained about the internal information leak at Barca, making the future of the players add vague. "I never understand why they may be labeled a player that can be sold. That is not good. If players want to leave, or the team needs to sell people, look for him It is a new berth but not to the public. everyone should get respect. "
About his personal, Vidal could return to Serie A for Inter Milan joined, or reunited with Juventus. Coach Antonio Conte both Andrea Pirlo and wants to have the services of Chilean star. "Pirlo was the talented player, and will be a great coach. If he called me back to Juventus, I will be very happy.
Inter are also coach Conte - the best tactician. He's like a machine. But I choose to be calm, "he replied when asked about the upcoming plans.