At the match between Monchengladbach and Hoffenheim in the framework of the Round 13 Bundesliga, an incident has happened. The home team's Marcus Thuram striker was chased off the field in the 78th minute, after spitting behavior on the defender Stefan Posch on the visitors.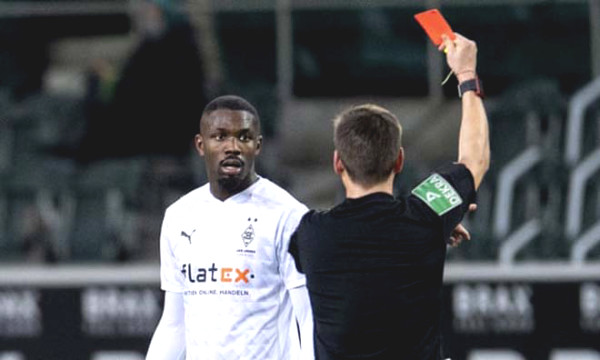 Marcus Thuram receives a red card for his shocking behavior
Don't stop there. Only 1 day later, the German Football Federation issued a strict penalty with the star belonging to this Monchengladbach payroll. According to the Sky Sports German version, Marcus Thuram is banned from playing 6 games and the amount of fine of 40,000 euros.
Thus, the French recruitment will execute the penalty of 5 matches in the Bundesliga and 1 in the German National Cup. And yet, Monchengladbach club also issued an internal penalty for 1 month of salary with French players. In this match, only 8 minutes after Thuram was fired, Monchengladbach received a goal to lose and had to receive a failure of 1-2 finals. This was the 6th consecutive match in this team to draw and lose.
After the incident, Thuram showed repentance. The French recruitment sent social words on the personal Instagram page: "Today something is not my personality happened. I reacted to the opponent wrongly. I apologize to everyone, Stefan Posch, my opponent, my teammate, my family and everyone who saw my reaction. Of course, I accept every consequences from my behavior. "
Max Eberl Sports Director of Monchengladbach confirmed that the French player was fined a month of salary with this amount donated to the charity. Mr. Eberl said: "I had a long discussion with Marcus, in which he once again apologized to me and the club for his actions. We knew Marcus was nearly 2 years. Action on Sunday does not represent Marcus' people ".
Marcus Thuram is the son of French football legend, Lilian Thuram. Marcus was born in 1997 in Parma (Italy), during the period of this alumni playing the ball for Parma Club. This striker played for U17 teams to U21 France, before the launch of the 2018 World Cup champion last November. So far, Marcus Thuram has 3 times wearing "Gaulois roosters".
Marcus Thuram's career is rising. After just playing for some midsize teams, even weak in France like Sochaux or Guingamp, Thuram joined Monchengladbach in 2019 and played growing to the German team.
This 2020/21 season, Marcus Thuram excelled with the team to win the ticket to the Champions League knock-out round. He is currently statistical and appraisal of Transfermarkt players pricing 40 million euros.