Bulk newspaper La Gazzetta Italia as dello Sport, Tuttosport has made football fans breaking when confirmed, Serie A 2019/20 will officially return from 20/6 (now Italy). This decision was made after a meeting between the Minister of Sport Italy - Vincenzo Spadafora with representatives of the Italian Football Federation (FIGC), the Italian Players Association and the organizers of the Serie A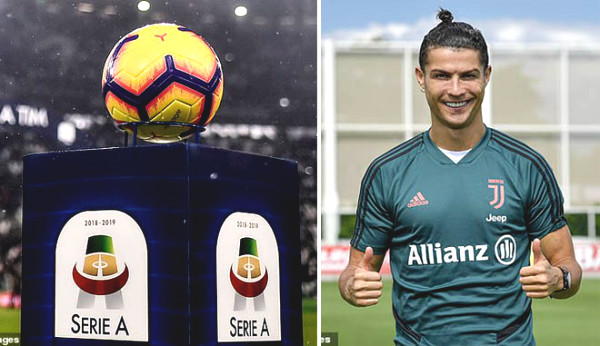 Serie A will be back at 20/6, 3 days later than Premiership
Besides Serie A, Coppa Italia was also re-timing. Accordingly, the two couples under the semi-finals of the framework include Juventus - AC Milan (ratio leg: 1-1), Inter Milan - Napoli (0-1) will take place on 13/6, while final to place 4 days later (17/6).
Interview with the media, the Minister of Sport Italia disclosed FA Italia has also prepared two contingency plans in the worst case: Serie A continues to be delayed if the situation Covid-19 has not been controlled in boot-shaped country.
"Italy has to stand up after the disaster and the football back is entirely reasonable. With this belief, we confirmed the Serie A could return from 20/6. Besides, the more likely the Coppa Italia performance took place on 13 and 17/6. If there are any issues arise that the league continues to be delayed, the Italian football federation has assured me about plan B - competition in the form of play-offs and plans C - delimitation first person based on the current position in the standings, "said Minister Vincenzo Spadafora.
Delayed on the day before because Covid-19 9/3, Serie A 2019/20 12 less going on, besides 4 games postponed from Round 25. Juventus - the club of the star Cristiano Ronaldo is leading with 63 points / 26 games, one point more than Lazio and Inter Milan 9 points.
Not long ago, a top European league other Premier League is all set to return to the time of day 17/6 - Serie A three days earlier. Meanwhile, league Spain - La Liga is also the government "green light" to re-export from 8/6, though not given official notice as the Premier League or Serie A.