The sports star is quite important role in time all leisure activities are suspended by service Covid-19. Not competition, the athletes more free to interact with fans, or organize online interview together. Others choose to constantly update on social networks to keep the "hot" of his.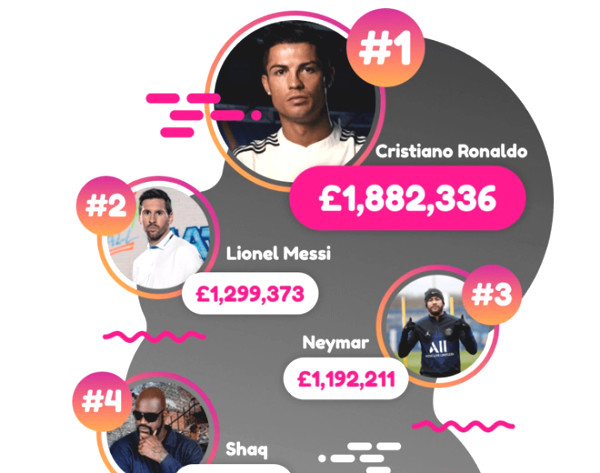 Ronaldo is earning sports stars from posts on the social network Instagram time Covid-19
According to a recent study published in the Daily Mail, Cristiano Ronaldo is the sports stars earn the most money through the post on the social network Instagram during the raging epidemic Covid-19 (12 / 3-14 / 5). This study is based on article advertising and athlete amount received for each ad posts
Cristiano Ronaldo has owned Instagram account to 219 million respectively track and earn £ 470 584 / per article advertising. In the space of two months, the Portuguese superstar has a total of 4 articles and grossed £ 1.9 million - topping the list.
Ronaldo's rival for years Leo Messi came in second place with 1.3 million pounds. Although the total number of articles also advertised as 4, but the value of each article of the Argentine superstar lower than Ronaldo. This is understandable because of Messi Instagram account track only 151 million respectively.
Who holds the record transfer rates, Neymar is ranked third in the list with nearly 1.2 million pounds. Brazilian star account owner can monitor the amount of 138 million and earn £ 298 053 ​​/ article.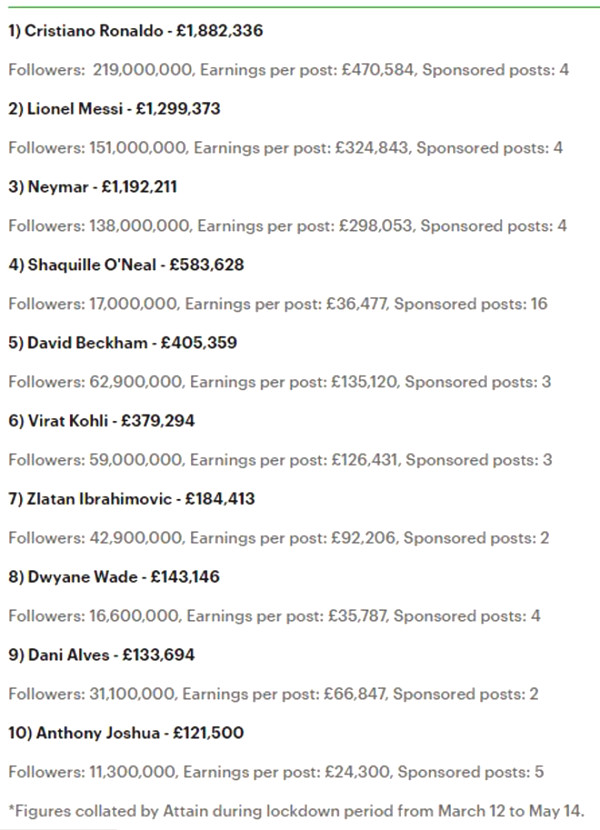 The football players occupy the leading position to 6/10
This study also shows the coverage of football compared to the remaining sports globally how big. For example, who ranked 4th in the list Shaquille O'Neal, one of the basketball legend and current TV commentator, only earned a total of £ 583,628, though he posted 16 articles.
In this top 10 list to 6 footballer. Besides the three names mentioned above also include David Beckham (405 359 pounds), Zlatan Ibrahimovic (184,143 pounds) and Dani Alves (133,694 pounds).
The rest position belongs star of cricket, Virat Kohli (379 294 pounds), a former basketball star Dwyane Wade (143,146 pounds) champion and heavyweight Anthony Joshua Boxing (121,500 pounds).