Football legend Ronaldinho spent 2020 joyless. Former Barcelona player and his brother were arrested in Paraguay because of a crime of false passports and then suspected of involvement in "mafia". Ronaldinho celebrated 40th birthday in jail and won soccer trophies here with is ... a pig.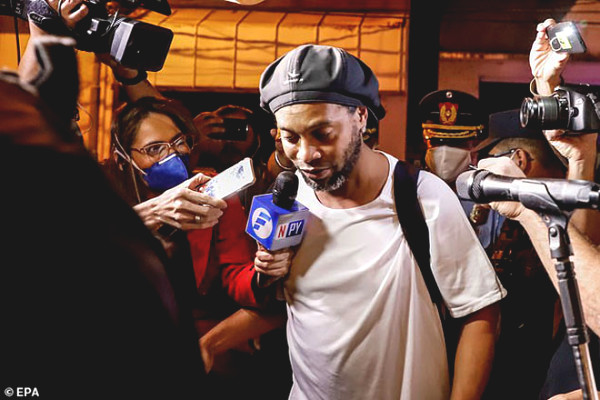 Ronaldinho has been freed after five months of house arrest in Paraguay
This player is the brother was detained for 32 days in prison before being released on bail and under house arrest at a hotel. A few days ago, the legendary Brazilian court freed Paraguay but pay 90,000 USD fine. Earlier, this player also spend $ 1.6 million to bail. Meanwhile, the player's brother sentenced to 2 years probation and fined 110,000 USD by using a false passport.
Ronaldinho Maradona invited to assistant?
Recently escaped from captivity, Ronaldinho immediately welcome good news. According Varky Sports Argentina, Maradona's legendary intends to invite the Brazilian title in his team's lead, Gimnasia y Esgrima Club de La Plata (called Gimnasia).
This is not the first time when this information appears at the end of June, several newspapers reported Ronaldinho wants to return to professional competition and play for the team of Maradona. However, sources said this time "golden boy" wanted Ronaldinho received a place in the coaching staff rather than putting their boots on the courtyard as before. If the former Brazilian player will agree, this is a coaching staff is extremely noticeable.