Battle of Le Classique of France between PSG - Marseille has always been expected to be very hot due to the rivalry between the two teams are not only rich traditions of this country, but also represent the two largest cities and two different domain . And indeed, the game did not end in peace.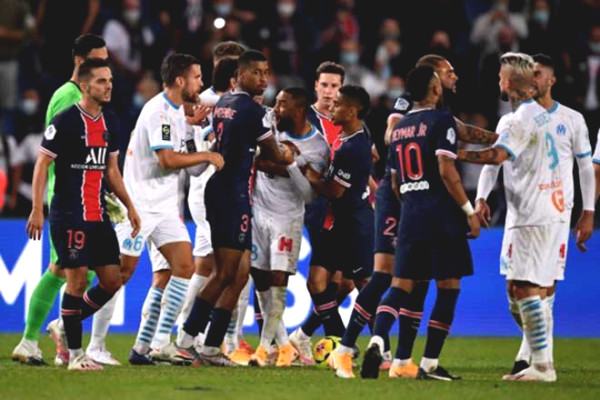 Last match brawl scene PSG - Marseille lead to 5 red cards
Marseille won the first after 21 games classic Super row as the only goal of THAUVIN 31 minutes after a free kick by Dimitri Payet, besides goalkeeper Steve Mandanda was 2 times saves outstanding for the visitors, di Maria and THAUVIN each has scored at least 1 but not recognized. But "blockbuster" lies not only in expertise.
The air battle was heating up right from the start and Di Maria has escaped a red card after a kick on the leg Payet chillingly. When entering into stoppage time, an ugly scene took place. Situations start at minute 90 + 5 after Neymar pushing Alvaro Gonzalez, who seemed to scold Neymar with "cala boca macaco" ( "Shut up monkey"), and after a foul by the Marseille of PSG players have rushed to claim avail enough.
Arbitration turn draw 5 red cards, chasing Neymar, Paredes and Kurzawa side PSG and Marseille Amavi and Benedetto side in just 3 minutes. Neymar left the pitch in anger and Alvaro had denounced acts of racism with her to find a microphone placed inside the pitch. The match ended just 90 minutes + 10 minutes extra time despite 6.
After the match, Neymar wrote on Twitter: "The only thing I regret is not punched in the face there bastards".