Despite pandemic Covid-19 is causing major damage to the global economy, Sun Sports magazine recently published a list of the richest sports star UK.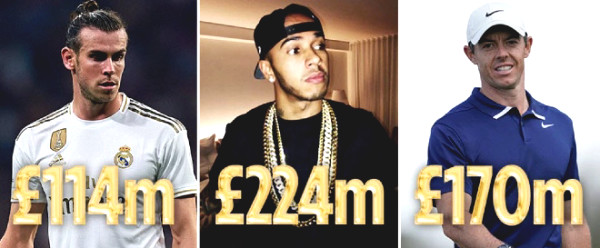 Hamilton topped the 224 million pounds
Accordingly, each F1 driver 6 times world champion Lewis Hamilton became the winner with a mass of up to 224 million asset table.
With success on the track Formula 1, plus there are hefty remuneration of the Mercedes team (contract 40 million pounds / year), Hamilton is truly one of the most successful riders of history.
In second place, Rory McIlroy is a sports star worth up to 170 million asset table. British golfer has returned to No. 1 world golf rankings in January 2/2020.
It is worth mentioning in the top 50 richest people in the field of sports, the young star makes up 18 positions. Notably, Anthony Joshua was the only person not a football player named in the list. After 2 match against Andy Ruiz Jr., boxer owns 4 belt heavyweight boxing champion has increased the total property value to 107 million pounds.
In another development, Gareth Bale is the richest person in their 30s or younger, and put on a lot of other football stars. In recent time, Bale has proven to be a very good star in the field of business even if Europe is engulfed in a pandemic Covid-19. Not to mention he still received a salary of £ 350,000 / week at Real Madrid.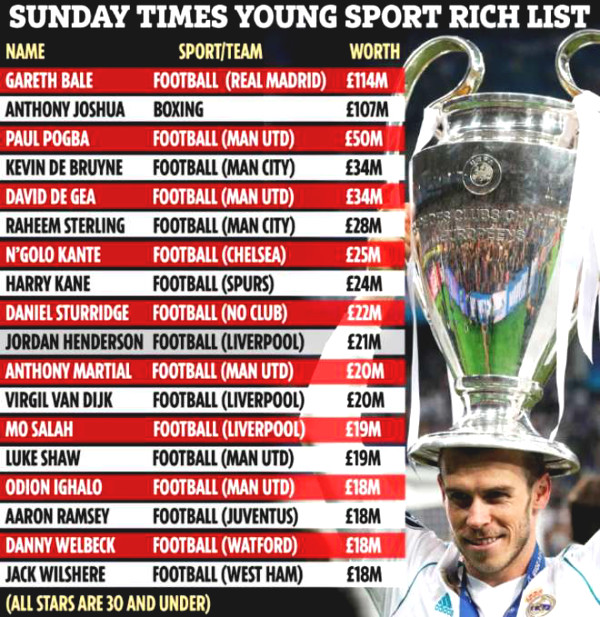 List of richest young stars (According to Sun Sports)
Rating turn after Gareth Bale and Anthony Joshua's are renowned players are playing in the Premier League, of which Paul Pogba (50 million pounds), Kevin De Bruyne or David de Gea (34 million pounds).