Photo slide movements match Inter Milan - Shakhtar Donetsk
Second semifinal Europa League 2019/20 is the confrontation between Inter Milan and Shakhtar Donetsk. With the recent consecutive surprise, many people worry for teachers and students to meet opponents Conte is rated weaker. In fact, Shakhtar Donetsk have started well when the ball more side while Inter also actively defending the majority.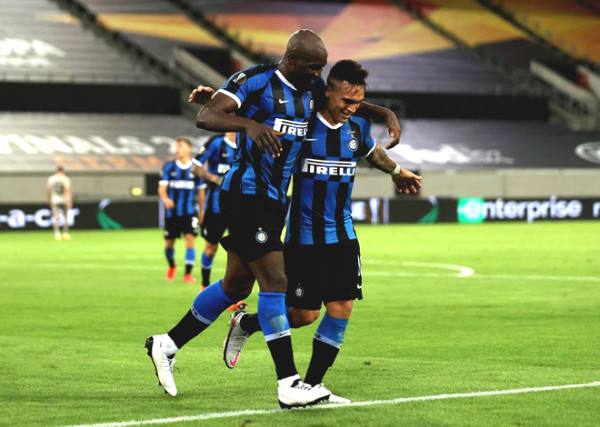 Lautaro Martinez opened the scoring match
19 minutes, goalkeeper Pyatov wrong ball on the home and not the opponent Barella promptly corrected. Breaking into the player in the penalty area from the right, Lautaro had to knock it in a header hit the net opponent. Shakhtar Donetsk also showed slightly when unbreakable battle bravery.
They had some chances but did not score in the first half equalizer. Into the second half, Shakhtar Donetsk are cornered well, suddenly get the second goal. D'Ambrosio who scored the header with the exact word Brozovic cross. By this time, the ball belongs to Inter Milan completely.
After 74 minutes, Lautaro Martinez finished with a nasty brace put a devilish heart. 4 minutes later, the Argentine striker to create excellent conditions Lukaku shot the opponent. 84 minutes, striker Belgian storm through and finish phase forte to make the score into 5-0. This is also the last goal in the match.
This win helps Inter Milan with strong presence in the 2019/20 Europa League final and their opponents will be Sevilla, the team overcame Manchester United in the semifinals before.
The score of the game: Inter 5-0 Shakhtar Donetsk (H1: 1-0)
Scored
Lautaro Martinez 19 ', 74'; D'Ambrosio 63 '; Lukaku 78 ', 84'
Lineup
Inter: Handanovic, Bastoni, De Vrij, Godin, Young, Gagliardini, Brozovic, Barella, D'Ambrosio, Martinez, Lukaku
Shakhtar Donetsk: Pyatov, Dodo, Kryvtsov, Khocholava, Matviienko, Stepanenko, Antonio, Marlos, Patrick, Taison, Moraes.
Statistics Match
Scoring players (According Whoscored)