The images match Inter Milan - Getafe
Since the first leg of this clash that not happened, so Inter and Getafe will have only one plays this game to identify winning and losing. Kick away but Getafe was the team create a situation notable first, when shortly after 2 minutes, Maksimovic choose the exact location top judge from the shot ball from the right, but the goalkeeper Handanovic flew people made a great save.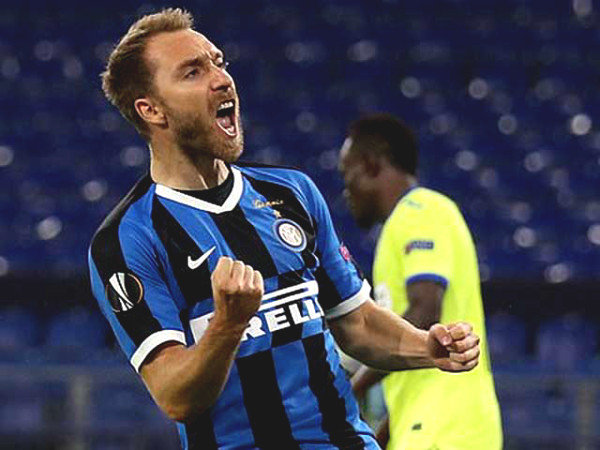 Eriksen contributed a goal in this match
Minutes later, the game completely belong visitors with exciting gameplay. 18 minutes, Mata calm braking ball in the penalty in the empty position, but his kick from the left of the striker hit a defender Inter.
Meanwhile, a first responder of the home team in the 25th minute, when Lautaro Martinez dribble determination to overcome two players Getafe before invading the box and let loose right-footed shot, but goalkeeper David Soria has leaned successful clearance.
Superiority of the home team then spoke for nearly 10 minutes. 33 minutes from the defensive line of Bastoni, Lukaku braking before a ball situations with Etxeita billions to experience before launching angled left-footed shot unstoppable, opened the scoring in the match.
Inter excitement followed into the early second half, when they continuously create dangerous situations against the city. Then the two teams the game development of attractive pair, while Getafe also to find the equalizer, with mobility in midfield. They often hit the tying goal, but the majority of them do not go off target.
After 72 minutes, the referee refer situations VAR after a handball in the penalty area by midfielder Godin, and Getafe was awarded a 11m. But kicks too amateur striker Jorge Molina substitute marked the turning point of Getafe disastrous appearance at this match.
To push the team up at the last minute, Getafe got hit "in commercial code" from the home side. 83 minutes, Eriksen welcome way of clearing the ball Dakonam gaffe in the penalty before the finish was easily assign access 2-0 victory for the home side.
With this victory, Inter had an interest in the quarterfinals. They will meet the winner of the pair of Rangers - Bayer Leverkusen.
Final: Inter Milan 2-0 Getafe (half 1: 1-0)
Scored
Inter Milan: Lukaku 33 'Eriksen 83'
Squad
Inter: Handanovic, Young, Godin, De Vrij, D'Ambrosio, Bastoni, Brozovic, Gagliardini, Barella, Lukaku, Martinez.
Getafe: David Soria, Nyom, Suarez, Etxeita, Dakonam, Cucurella, Olivera, Timor, Nemanja Maksimovic, Arambarri, Mata.