He Wahyudin, a referee in Bekasi, on the island of Java (Indonesia) has been working on team player "type assemblies", even in a stampede in the amateur soccer match. Specifically, extremely violent acts occurred in the match between FC and Yutaka Champas place at Patriot Stadium Candrabhaga cities Bekasi.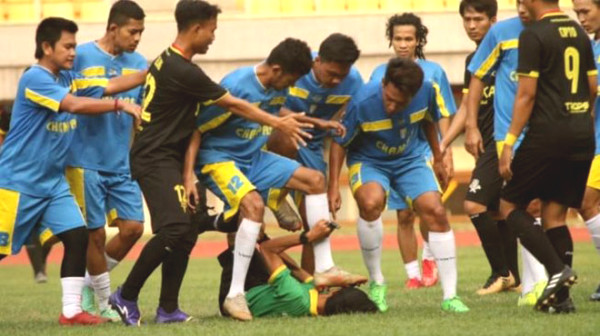 Wahyudin referee mercilessly trampled
Before that, the referee has blown himself Wahyudin Vietnam locate a home team player. Given that it was a wrong decision, a group of players of FC Champas did not keep calm and plunge into clashes with the main referee.
Not only pushed him to the ground Wahyudin, one of the home team players also embarked on extreme malice trampled on his face blackened referee. Wahyudin referee's face was seriously injured after the injury unsportsmanlike behavior of the players.
"The players from FC Champas did not accept this decision and some of them have surrounded me for revenge" - he Wahyudin share local newspaper when contacted by phone SuaraJabar.id. "I do not remember the person. When I was beaten, my vision is limited and then I lost consciousness" - the referee controls the game "disaster" for more info.
According Wahyudin, this game is in an amateur event is organized by the team of Bekasi. Tournament titled Fun Football FC Gilbar 2020. However, the criteria of "fun" of it has not been remembered in the match between FC and Yutaka Champas.