Real Madrid days for troops in 2020/21 Champions League will be nothing remarkable if they won 3 points ahead of Shakhtar Donetsk is not rated higher. But not the Real did not win, they also hand out on white with 2-3 defeat, the scene was in the lead 0-3 after the 1st half.
Zidane shocked and get full responsibility for his defeat after the match
Shakhtar Donetsk have lost 10 players since translated Covid-19 but with a game jubilantly and courage, especially in the 1st half when they take full advantage of the mistake of the defenders Real in pressing and choosing the location. Meanwhile Real harmless in attack in the first 45 minutes, and resort to Luka Modric blockbuster and a play by Vinicius efforts to reduce the score in 2nd half.
The match showed a real face is not really bright after winning La Liga and have a quiet summer of transfer points because Covid-19. The defenders rock like "chicken hair problems," Sergio Ramos is not in the field, while Luka Jović totally unworthy substitute Karim Benzema's position. And above all, the spirit of competition is weak, such as Zinedine Zidane admitted the coach.
After the match ended, Zidane took over 1 hour to appear in the press conference after the match. When he is present, Zizou acknowledges full responsibility for this defeat. He said: "We lack the confidence to start the game in the way that we know. In the 1st half I have not seen the quality of the players in the match and that I accept responsibility. "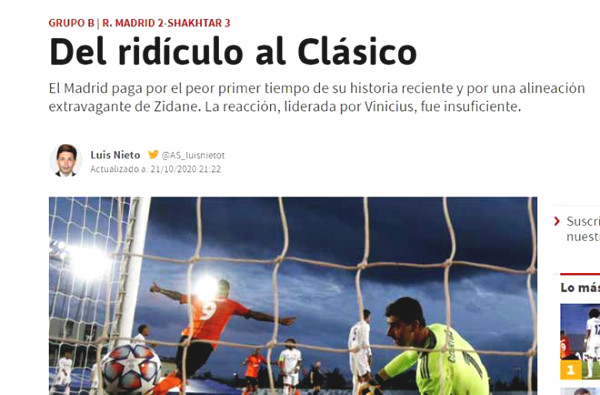 "Classics of the ridiculous" - the title of the newspaper AS
The reaction of the press in Spain is a surprise, Vol. Marca large headline: "Real Madrid fell down a hole." Jose Maria Rodriguez of this newspaper said that the mark of a bad team is always in the ability to create chances and controlled the match poorly. "The passive defense is something really unbelievable, but the passive attack is equally as powerful striker almost everyone stone", the article reads.
Satirical newspaper AS, the match with the headline "Classics of the ridiculous" part refers matches "super classic" Barcelona ahead. "Half 1 we have just seen is the worst 1st half in the history of Real Madrid, a comprehensive shame. Never defense of Real Madrid kick innocently so, and never attack again laziness and lack of creativity to the world, "the game's narrative this newspaper commented.
Meanwhile ESPN when scoring the match Real Madrid player has "donated" for both Luka Jović, Raphaël Varane and Eder Militao the lowest score. Varane and Jović was 4 points, while Militao receive points 3, especially being criticized for naivete defense that typified the first goal and then let Solomon comfortable escape to score in goals 3rd.