4 goals in Real's defeat against Valencia
Missing two superstars Casemiro and Eden Hazard for infection Covid-19, Real Madrid spent most forgettable match from the 2020/21 season to Valencia 4-1 in the Mestalla buffeted. More remarkable, "seven teams" win thanks to three successful penalty from Carlos Soler and Raphaël Varane's own goal.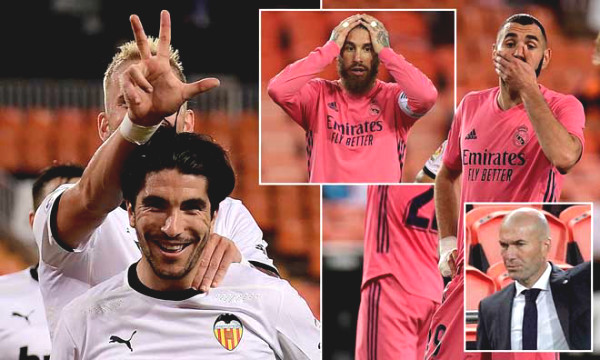 "Disaster" defense led Real received the heaviest defeat under Zidane
According to statistics, Soler was the first player penalty hat-trick in La Liga in the 21st century also became the team Valencia 2 Real 4 times torn nets under Zinedine Zidane, after Real Sociedad in the King's Cup first now (4-3).
Real fans can blame the team's bad luck or ... VAR for contributing to a 3/4 goal. However, once is not enough to fill the weakness where defense. 4 soccer defender in this battle include Lucas Vazquez, Rafael Varane, Marcelo and Sergio Ramos all make mistakes lead to 4 goals.
Vazquez for handball in the penalty equalizer helps Soler 1-1, Varane og 2 goals led to Marcelo and Ramos mistake leads to penalty 2 (Marcelo tackle lack of determination, Ramos foul penalty), before Ramos handball in the 3rd penalty of Valencia.
After only seven games this season, the number of goals conceded by Real must get up to 9, not including 7 goals in 3 matches Champions League makes them dive at No. 3/4. Need to know in season 2019/20, "Royal team" crowned La Liga champions thanks to its high ecstasies of defense (only 25 goals conceded all season).
In the context of Zidane is rejuvenating forces, defense is where gathers the names of experienced as Ramos, Marcelo, Varane and strategist French trust the most. However, with a performance of "disaster" last time protected itinerary La Liga crown and rediscover peak of Real's Champions League is still very bumpy.