Man City officially won the ticket into the Champions League knock-out round early 2 matches. The army of Coach Pep Guardiola understands that they only need to win 1 point before Porto is to complete the target ending at the top of the table.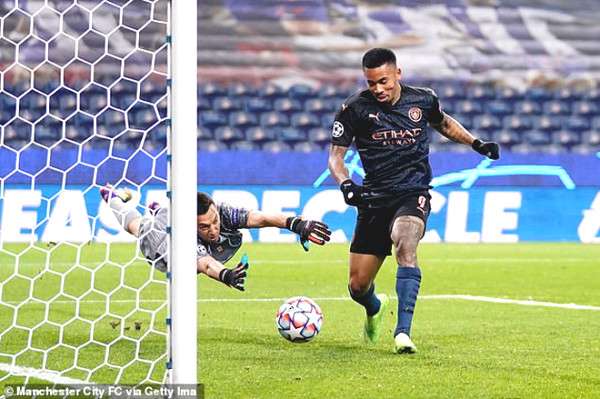 Jesus was denied goal
With the familiar style, Man City pushed the attack on the attack, causing Porto to retreat to the defense pitch immediately after the opening whistle. However, Man City almost blows for a pen: Otavio collided with Ederson in the penalty area, so it was the main arbitration Bjorn Kuipers had decided not to point at 11m after referring to Var.
The next minute, Man City is still fully playing over to Porto. In the 37th minute, Sterling was almost opening the score of the match when the British midfielder's finish was defeated by goalkeeper Marchesin but Sanusi was present on time to break the ball right in front of lime. It is also the most notable situation in the first half.
Entering the second half, the game is still under Man City's control. The students of Coach Pep Guardiola move extremely transform and approach Porto's goal in many different ways. When the match was only 10 minutes left, the player took the yard to replace Jesus to finish hit the home team but Var identified the Brazilian striker falling into the offside posture.
Finally, Porto held Man City with a score of 0-0. This result is enough to help both teams take the ticket to continue at Table C.
Final ratio: Porto 0-0 Man City
Departure team:
Porto: Marchesin; Manafa, Mbemba, Leite, Sanusi; Corona, Uribe, Olovieira, Otavio; Marega
Man City: Ederson; Cancelo, Dias, Garcia, Zinchenko; Rodrigo, Fernandinho, Bernardo Silva; Foden, Sterling, Torres