45 + 7 minutes, while the legs of the players were exhausted Juventus, Ronaldo showed the level of superstar. Playing off a strike after a pass from Pjanic but CR7 done through Sampdoria really perfect, the way fans have seen a comprehensive and knows Ronaldo shines when the team needs him most.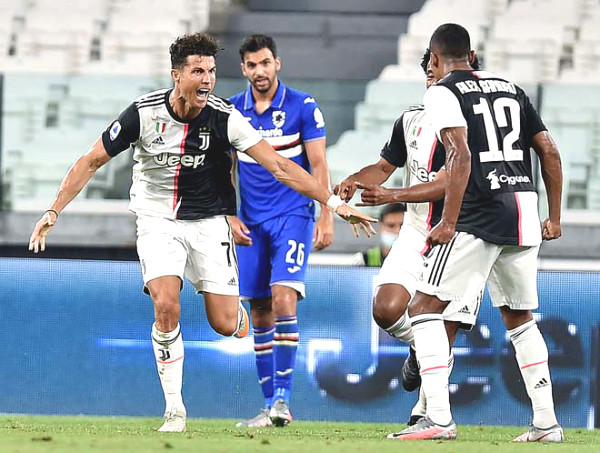 Ronaldo shines, the motivation to help Juve 2019/20 Serie A title
With that goal, according to statistics from Opta, Ronaldo pressed scoring record in a season at the club Juventus. The Portuguese superstar who had 31 goals, only one less legend Felice Borel phase set. 1933/34 season, scored 32 goals in each Borel Juventus.
When Ronaldo 23, he scored 31 goals for Manchester United in the Premier League. In the history of Manchester United, which is the achievement scored second best. Ronaldo at the age of 35 has reached level 31 goals for Juventus record (performance 1 goal / match). Ability scorer Ronaldo was hailed as a rare Squawka in history.
Shine is so, but in fact are not satisfied with Ronaldo himself. At 89 minutes, CR7 had a great opportunity to continue chasing Ciro Immobile in the race for the Serie A top scorer and European Golden Shoe. If successfully implemented a penalty, Ronaldo has 32 goals in Serie A this season. However, he held out the ball hit the crossbar.
So, Ronaldo is still only 31 goals. Meanwhile, immobile has 34 goals with a hat-trick against Hellas Verona. Should know, before round 36 while Lazio striker Ronaldo has 31 goals ranked second with only 1 goal less, and even in the last round of 35 they have 30 goals.
In the race to the title of European Golden Shoe this season, immobile caught up Robert Lewandowski striker of Bayern Munich (34 goals). With Lewandowski inability to improve achievement for 2019/20 Bundesliga ended, immobile can win the Golden Boot if "fire" in the last two rounds.
With Ronaldo this time, filling the gap 3 goals or even to write more immobile, it is not easy. Despite win this race or not, the way Ronaldo really extraordinary effort.
Remember, Ronaldo now has 35! And yet, more Scudetto this year, which was the title Domestic 7th superstar Portugal in the tournament that he appeared after "abroad" (3 Premier League, two La Liga, 2 Serie A).