The case takes place on the Twitter social network, when Ozil posted a photo of himself in front of thousands of Arsenal fans on Emirates with the caption line: "Feeling with fans behind" with the Hashtag #grateful (grateful ), #bestfans (the best fans) and #hardtimes (difficult stage).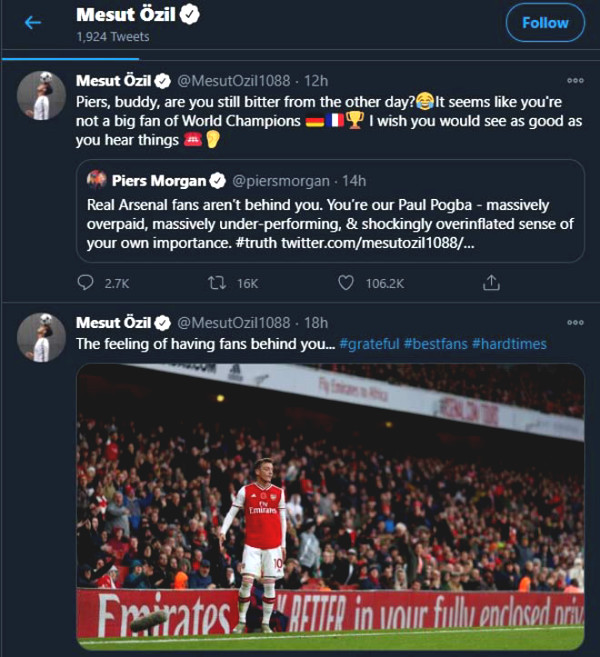 The case on Twitter between Ozil and Morgan
After that, Arsenal's famous fans were the TV show Piers Morgan jumped into posting comments that were not good to target the German star.
"Authentic arsenal fans don't stand behind him. He is Paul Pogba of this team, a ridiculous salary, has not come, illusory or about the importance of herself ", with Hashtag #truth (truth).
Instead of having anger reactions, Ozil had a humorous response to Piers Morgan. He wrote: "Piers, are you still spicy since then? Looks like you don't admire the world champions very much? Hope he heard what he heard, he also accepted that. "
Should know, Ozil and Pogba are world champions in the last 2 World Cup periods in 2014 (Ozil with Germany) and 2018 (Pogba with France).
In another development, the former Forevist Freddie Ljungberg recently had criticism for coach Mikel Arteta because of the Spanish strategist straightening Ozil: "When you have a player like that, I don't Saying that he had to give him a weekly play, but when his team was occupying and he needed a person to launch effective passes, I didn't think anyone in this team did better than Ozil.
Of course, he had to bet on the defensive array, but it made a decision. I don't understand why he is outside the list of 25 Arsenal players. If he's not good, there are no more players who can be better than him in this world. "
Meanwhile, sources from Turkey said Ozil seemed to have found a new berth in January. Murat Zorlu, an official of Fenerbahce club, confirming the team is very close to Ozil for the upcoming winter transfer period.
"A source close to the club told me Mesut Ozil highly ability will become Fenerbahce player in the upcoming transfer. I think this information authenticates up to 90%, "Zorlu shared on Sport Digitale.