A few days ago, football fans witnessed a rare match as many as 12 yellow cards and 5 red cards. PSG and Marseille match in Ligue 1 round 3 framework with only 1 goal after 31 minutes but Florian THAUVIN witnessed five players were sent off while superstar Neymar.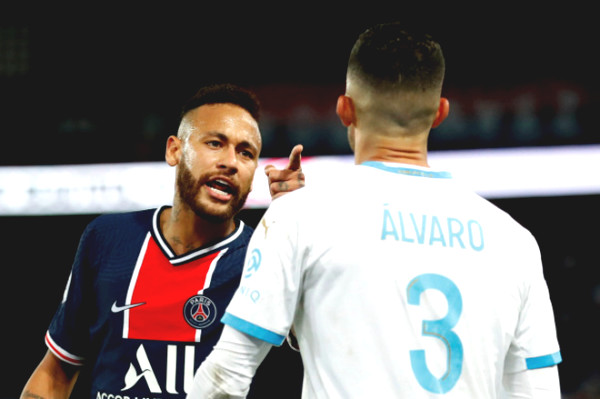 Neymar received a red card after the incident with the player Marseille
Brazilian striker starred in the scuffle with the players in the last match in Marseille. Two other teammate Neymar is Kurzawa and Paredes have also received a red card. Marseille side, Amavi and Benedetto are two players were sent off.
The incident triggered a series of controversial online as both sides blame each other. Neymar Alvaro Gonzalez factor "racist" and blamed the referee was "not doing anything" while Alvaro bested Neymar "distinguish homosexuals". Even Angel Di Maria also become embroiled in the act of spraying service saliva shortly after from Covid-19.
Recently, the organizing committee announced Ligue 1 penalty for the controversial incident. Kurzawa Layvin defense of PSG received the heaviest sentence suspended for 6 games. Neymar and Leandro Paredes and suspended 2 games and can add 1 more match in the form of suspended sentence (ie eating only one yellow card in the next 10 games will immediately add 1 game was suspended). Also, Ángel Di María will have a hearing before a disciplinary panel of the organizing committee of the Ligue 1 unsportsmanlike behavior around.
PSG Kurzawa received the heaviest sentence was suspended for 6 games when
Marseille side, the penalty is somewhat softer, Jordan Amavi suspended 3 games while Darío Benedetto was suspended one game only. Alvaro Gonzalez own continues to be investigated and may be punished most severely. Neymar had heard 4th referee discuss a case of racism on the pitch and that's Neymar said Gonzalez should ask the referees check the video.
In fact, this sentence not benefit for PSG when they lost to three (and possibly four) pillars in the next round. Metz match in the recent compensation, they lost midfielder Diallo followed by receiving two yellow cards in the defense Bernat thanks to two new health care workers can replaced with a pained expression.