Fernandes set Rashford and finish a lot of the recent sessions of MU
Premiership officially active again with two pairs of round 28. offset match Sheffield United missed the chance to rise above Manchester United to win 5th place in the standings after being held to draw at Aston Villa while City easy win over Arsenal.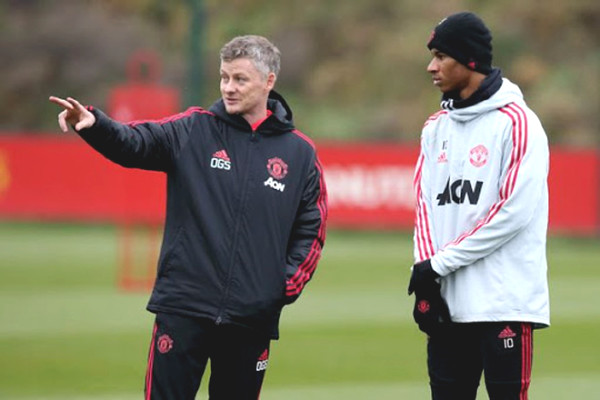 Solskjaer with the students welcome good news before War with Tottenham
This is a good news for MU by Solskjaer's side by offloading some pressure before entering the great battle with Tottenham. Currently, MU still ranked 5th and 4th from right 3 points. Therefore, they will be determined for the trip to London at dawn on 20/6 (now Vietnam).
As noted by the Manchester Evening News reporter, the United players are excited in the recent training session. Bloom permanent smile on the lips of the players, especially Paul Pogba - new players come back after a long injury.
Goalkeeper David de Gea showed that the concentration of reflective exercises. Over 1 year ago, the Spanish goalkeeper had 11 saves to MU as guest when Tottenham help the home team win the final.
Solskjaer also quite low-key coach in "hide all" before meeting strong opponents. But still there are some very noteworthy. Bruno Fernandes Rashford and were set quite all stopped when the ball is thick cross into the penalty area from the right before.
Bruno Fernandes Rashford and constantly set off the crossbar before the penalty
It seems the pair will often infiltrate from the following line to receive a pass from Daniel James while Martial will play the role of "birds of prey". Thus, it is likely that United will leave with a trio Rashford - Martial - James in attack while Bruno Fernandes will play a supporting role behind the trio.
Backs Luke Shaw has also disclosed on the homepage of MU on the team spirit as well as the process of preparing for the match. "The goal now United's win over Tottenham. If you get all 3 points, we will have a big step in the race for the top four Premier League. All we need to do is continue Room made before the Covid-19 appearance.
We've trained very carefully besides carefully analyzed video tapes of opponents, especially the first leg at Old Trafford. We had a good and makes the ball Tottenham almost no chance of danger. I wish to repeat that in this match. "
Some images in recent sessions of the MU