Rarely fans impatiently as MU again this summer. While other clubs frantic shopping, the "Reds" very slowly. Despite the "mountain" of rumors, the Old Trafford just pick a single rookie Donny Van De Beek is from Ajax (Netherlands) at the price of 40 million pounds.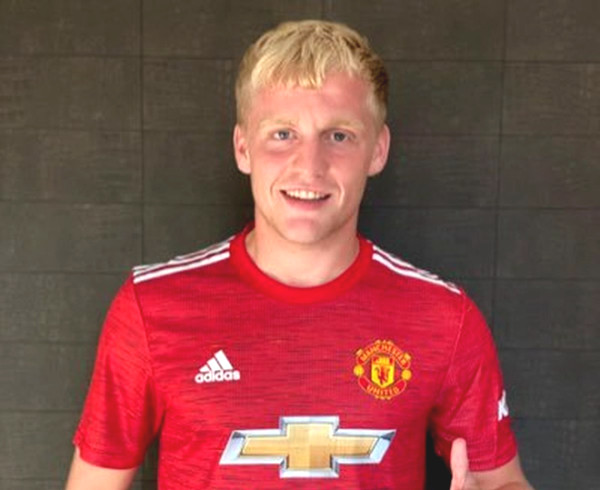 Donny Van De Beek is the newest rookie of MU
After a season with the "easygoing", MU started more cautious on the transfer market with the certainty of Solskjaer. A noticeable characteristic is currently "Reds" do not rush scrambling objectives are playing in the Premier League as before.
Harry Kane, Jack Grealish, James Maddison, Declan Rice ... that once was "rumored lover" of MU on the report. The common feature of these is always hanging bridge "price tags" extremely high. Harry Kane price is 200 million pounds, 100 million pounds James Maddison, Jack Grealish was 80 million pounds or 70 million pounds Declan Rice.
It will be the "blockbuster" if activated, but they all just rumors until the present time. MU seems to realize that recruiting stars playing outside the Premier League is a lot cheaper. Two of MU closest rookie Bruno Fernandes (50 million pounds) and Donny Van De Beek (40 million pounds) with the total price is less than half the price of Harry Kane and not enough to buy Maddison.
Signings "dream" of MU are hanging "price tag" too high
The effect that the Portuguese midfielder brings to joining Manchester United is not controversial and Van De Beek likely will do the same thing. Less than half the price but provide a similar effect (even maybe more), which is why Manchester United are moving away from the domestic market.
In fact, the two closest players in the Premier League Manchester United buy Harry Maguire (80 million pounds) and Wan Bissaka (50 million pounds) are playing well but the "Reds" has been rated as buy them. British targets only the current MU is Jadon Sancho is priced 100 million pounds but playing in Germany. Actually, the ability to Old Trafford team activated "blockbuster" is also not great.
Instead, the next rookie is Sergio Reguilon MU possible. Left-back is on the payroll of Real Madrid had a successful season with Sevilla for the Europa League championship. MU was the victim of origin Andalusian team in the semifinals and one tectonic Reguilon contribution in this match.
According to Transfermarkt, the defender is priced 25 million euros, very reasonable prices. Remember, each consuming 50 million pounds MU to recruit Luke Shaw play potential but often unstable because of an injury. Many recipients of the defender valuations so high ... it's only by the British.