A reception Tottenham on Old Trafford in the Premier League round 4, as well as a screen reunion Jose Mourinho has become the "nightmare" of MU. Day play lousy defense, Anthony Martial red card 28 minutes, "Red Devils" have been buffeted opponents 6-1.
After the game, the image of the players blankly and Ole Gunnar MU Solskajer "coverage" across the UK media.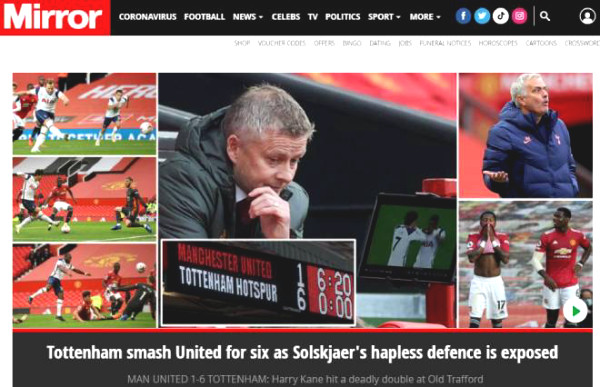 MU has been criticized badly after losing 1-6 Tottenham
In the article "MU balance record of failure Biggest home in the Premier League, Mourinho has dated back to sweet, Tottenham overwhelmed 10-man Manchester United", Daily Mail offering impressive statistics revolved around Battle football. This newspaper page also uses the word "crazy" to describe encounters at Old Trafford:
"A crazy match. For the first time United conceded 2 goals in 7 minutes since January 10/2015 (lost to Arsenal 0-3.) The first time one match in the Premier League saw 3 goals appear in 7 minutes, so the first team has done since January 4/2010 (Burnley 1-6 Man City). But this is the first time, three goals in the first seven minutes as both teams made since 2 May 2/1999, in the match of the MU (Nottingham Forest won 8-1) ".
Goal page quoted Patrick Evra, the former Manchester United defender to express disappointment with the home side at Old Trafford: "Many members in the MU needs a strong slap in the face".
Meanwhile, Mirror page for that performance of "catastrophe" of the MU defense is the main reason leading to shock on the Old Trafford match: "The highlight of the game was 1-6 Tottenham MU: Ability defense comedy United's ability to finish sharp Son Heung-Min, Lamela Martial hoax, Harry Kane class! ".
Mirror also said that the risk manager Solskjaer "flying chair" is there to start after forgettable match at home:
"Solskajer still safe despite last ebb 2019/20 season. But last night with a performance of MU, the pressure will be poured on his shoulder, alongside concerns about this strategy is right work with leading 'red Devils'. Using the word 'disaster' to talk about the match in Old Trafford was too gentle, players must share the responsibility, but the biggest mistake was the head coach. "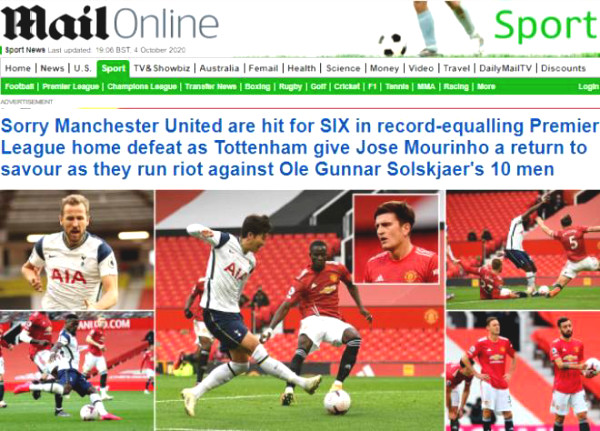 Images of United players blankly "coverage" the British newspaper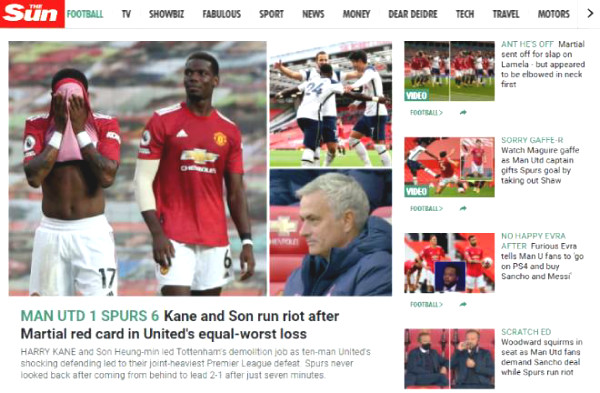 Moments Mourinho smiled British press was also "grab"
Harry Kane received much praise for scored twice against Manchester United
Solskjaer confirmed media totally risk "flying chair"