MU is the team has serious concerns for long and Sancho, and currently "holding pole" in bringing the youngster back to England. However, BLD MU clearly expressed desire to reduce to the maximum extent suggested price of Dortmund, currently falling at about 108 million pounds.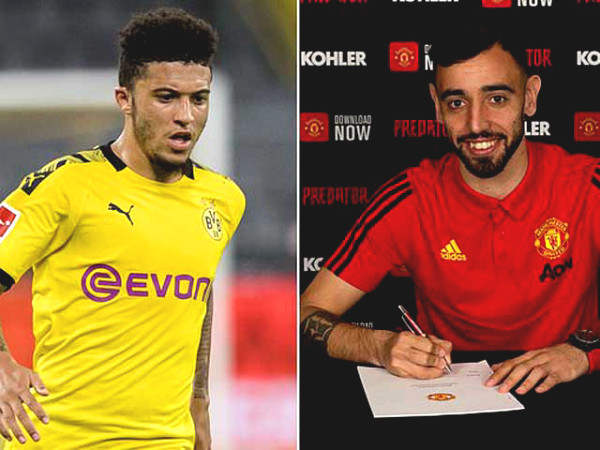 According to sources from the Manchester Evening News, vice chairman Ed Woodward wants most of the money paid in this transaction is located in the entry premium, based on the contributions of Sancho if caps MU. Be aware, this is also the tactic helped them recruit midfielder Bruno Fernandes success on the last day of the transfer window in January.
Meanwhile, Manchester United paid an initial fee of 47 million pounds for Sporting Lisbon, and take charge of 20.7 million pounds in extra items. Thus, if the contribution of Fernandes met all the requirements, MU will have spent a total of 67.7 million pounds for the Portuguese team.
The latest, with the finish in the top four Premier League and won the Champions League next season, MU was immediately transferred to Sporting Lisbon for £ 5 million, as the mutual commitments. If Fernandes won the Golden Ball in the future, "Reds" will spend 15 million euros for the Portuguese club. In case of MU sell Fernandes, Sporting Lisbon will receive at least 10% of the profits.
This approach helps reduce the burden MU costs as well as the initial investment amount. But if you follow this approach, rivals Man City - Sancho trained team - will receive a "cut waste" less from Dortmund. Should know, under contract between Dortmund and Manchester City, Green Man will enjoy 15% "commission" if sold Sancho Dortmund new higher price of £ 8.
Dortmund is said to have set limits to the day 10/8 for this deal. However, MU seemed very confident in prolonged negotiations over time because their confidence is the only team potential and intend to recruit Sancho.
A recent information from the Independent said, Manchester United and Dortmund have found common ground on the initial price of 60 million pounds in the deal. Nevertheless, the British press said that if you count the extra clause, MU will almost certainly have to spend more than 100 million pounds. Team Germany was adamant in claiming not to sell below the 100 million pounds Sancho. German media side that twist between the two sides is the time to pay, and the amount paid each period.