"Ghost" goal of Thomas Helmer
26 years ago (23/04/1994), Thomas Helmer went into the history of German football as a goal "ghost" that even players also surprised. Situations happening in the match between Bayern Munich and Nurnberg in round 32 Bundesliga 1993/94.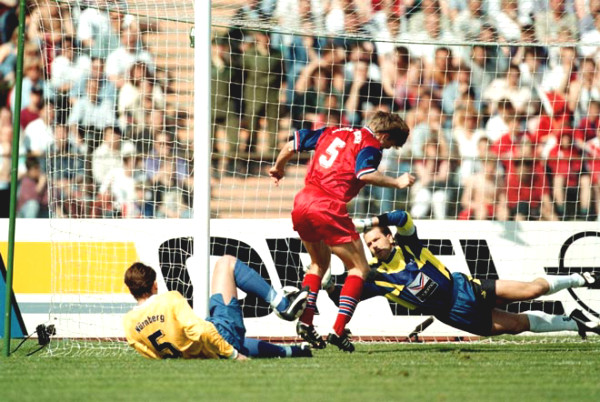 Famous ghost goal from Thomas Helmer
Both teams are very determined when entering this match by "Bayern", the champion is racing while the visitors also needed three points in the relegation battle. After 25 minutes, the home side was awarded the corner kick from the right. The ball was thrown into the penalty area and Thomas Helmer were in the right spot to reach the ball into the buffer.
However, the player disorientated and tucked the ball went out. All players involved in situations that ball are preparing for a tee shot up the surprises coming.
The referee signaled suddenly recognized Bayern Munich goal. But despite the anger coming from the Nurnberg players but the referee insisted on retaining this decision.
All angles showed the ball never goes winning goal, let alone rolled over the goal line. Even Thomas Helmer also admitted he felt ashamed of owning a goal like that. German former player explains why no objection to the decision of the referee on the field.
"That's the situation quite quickly. I unobservable ball for a few seconds, so when people are celebrating, I think I did get the ball crossed the line. "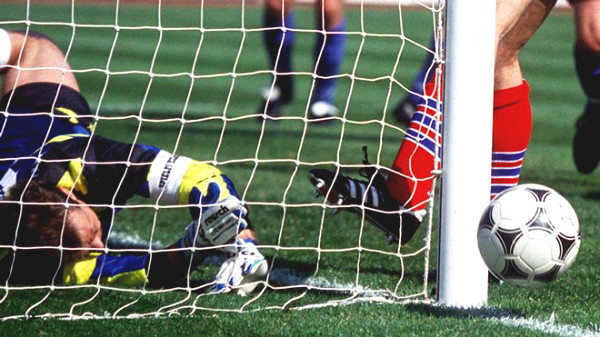 All the camera angles are proven ball never even hit the target travel
Although very frustrated but the players are still playing every match Nurnberg and lost with the score 1-2. However, they have appealed to the organizers of the tournament and after a video review, the Bundesliga has decided to cancel the result of this match and held a match again.
Five days later, Bayern Munich thrashed Nurnberg with 5-0 and won the Bundesliga title after 34 rounds. Meanwhile, Nurnberg only ranked 16/18 and dropped to second place. Bitter thing is Nurnberg with consecutive points to teams ranked in the Freiburg but less about the number
If no goals "ghost" of Thomas Helmer, maybe the game had 1-1 and Nurnberg will have the chance to stay in the Bundesliga. Currently, the club is still playing in the second tier of German.