Messi hat-trick, Barca "destruction" Almeria 8-0 in La Liga 2010/11
On El Pais, Fabian Vargas - former Almeria player recounts memories of 10 years ago Messi. Eve of the match between Almeria and Barcelona La Liga 2010/11 under the framework, Vargas expressed interest in applying Messi jerseys for charity.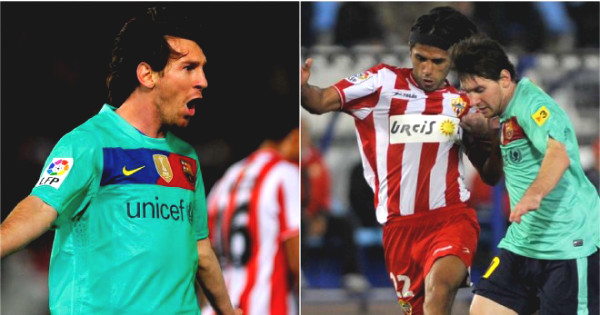 Messi was admired for his rival talent and noble personality
"Friends asked me please jerseys Messi for auction to support the flood victims in Colombia. Therefore, before the game against Barca, I met him and present aspirations," said national team Colombia.
In this match, Barca Almeria been "destroyed" with the score 0-8 at home, Messi personally contributed a hat-trick. Vargas himself could not hide the disappointment, even forgot about please M10 shirt.
However, what makes the former 40. More startling is the action of Messi after the match: "After the match, I was so angry, sad, even forgotten story please jerseys Messi. But when leave the stadium, Messi was waiting for me at the gate with a small bag in his hand.
'Look, I just would like to give him a few shirts alone', he told me. I thank profusely and hugged Messi. Besides his shirt, the bag with the shirt of Xavi, Iniesta, Dani Alves, Pique, Puyol ".
Throughout his career peak, Lionel Messi faced many mixed opinions about personality. Even in the recently published autobiography, the former Real Madrid goalkeeper - Jezry Dudek bluntly criticized Lionel Messi contrived, often provocative opponent.
Still, Vargas believes that memories in the past have proven Messi is not only the players outstanding on the pitch, but also a great man, "I will never forget the memories in the past, hope Messi will continue to conquer many great record, because of talent and what he did for me. "