Today the last 28/9, Lionel Messi has a goal now match in La Liga Barcelona's military past when they crushed Villarreal in round 2 (match in round 1 of Barca having been postponed Elche).
Whether it is just a successful penalty but mixed up at the Nou Camp was dominated by "La Pulga" rolling historic landmarks. Lionel Messi became the fifth player to score in the history of 17 consecutive seasons in La Liga, after Agustín "Piru" Gainza, Carlos Alonso, Sergio Ramos and Santillana.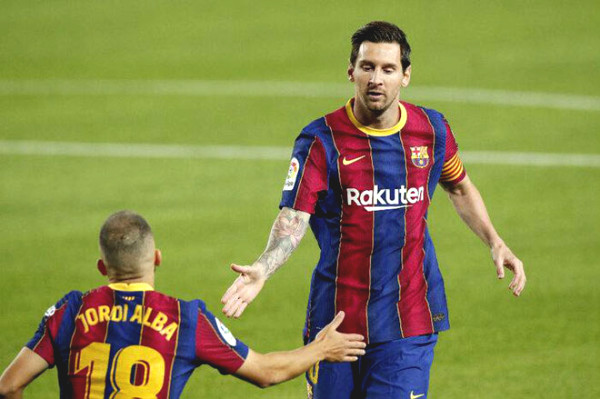 Messi's first goal in La Liga this season from the penalty spot
Recently, in an interview with the newspaper Sport (sports daily popular in the land of Catalunya body Barca), Messi has officially recognized its fault in causing chaos after once declared wanted farewell Barca in the transfer window this summer:
"After a lot of disagreement, I want to end it all. We must unite as fans of Barcelona and believe that the best is yet to come. I will take responsibility for his mistakes and if they exist, it is with the aim of making Barcelona a better and stronger.
I want to send a message to all communities and fans follow us. If at any time, any one of them feel uncomfortable because of something I've said or done, do not doubt that whatever I do is always for what is best for the team. "
The good news has just come to Barcelona as they prepare to get one more quality recruits. That's right-just 19 Sergino DEST (Ajax Amsterdam).
American football prodigy Sergino DEST will complement the quality of the Barca right-back in place
According to Sport, Barca had to spend 25 million euros (nearly 680 billion) to recruit Sergino DEST from Ajax. This is a quality supplement at right back position, where they both sell Nelson Semedo to Wolverhampton with 30 million euros price and need a good backup plan for the vice squad Sergi Roberto.
At Barca, right back position is very important when players play in this role requires leadership club will have to work on a good defense to support the captain Lionel Messi when the whole team pressed the pitch rises.
Last season, in his first season of professional play, Sergino DEST played 35 matches and scored 2 goals for Ajax. This season, he has played three times in the Dutch league (Eredivisie) before parting Amsterdam Arena field team to prepare for joining Barca.
Dest will be the 6th rookie team at the Camp Nou "Summer fair" is, after Miralem Pjanic, Gustavo Maia, Matheus Fernandes, Trincao and Pedri.