Three scenarios for handball in the penalty will not be blown penalty under the new law of the Premier League
Premier League just happen to be three rounds but there was too much controversy occurs especially in relation to the penalty. According to statistics from Whoscored, the referee has blown 20 11m kick after 28 the first match of the Premier League, which is an average of about 3 match will have 2 penalty.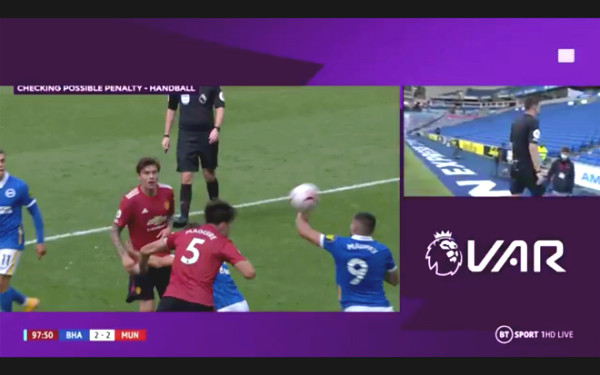 The matches of the Premier League 2020/21 constantly penalty
Most of the penalty phase are blowing the help of organizations VAR to bring the most accurate results. By law, handball defensive player in the penalty area when the police themselves are not close hand blown penalty regardless of which players passive or active.
However, this still controversial so organizers decided Premier League with some minor adjustments in the law began penalty after the meeting took place on 29/9. According to the Sun, chief executive of the Premier League referee Mike Riley has consulted IFAB, the body in charge of FIFA's football rules and approved.
Accordingly, the referee has the right to consider the reaction of the handball players. If handball in situations defensive player passive (the ball too close to not react) and arms in a natural position is not necessarily close to the body (like running ...) and hand swung below shoulder it Arbitrators can ignore this error.
Umpire is recommended to review the situation in the real speed of 3 to 4 times, with playback in slow-motion speed before making a final decision. For ease of visualization, some examples have been given.
Lindelof situation (MU) and Ward (Palace) will not blow a penalty under the new law
Two typical scenarios will be deleted errors and no penalty is shot the ball Lindelof (MU) against Crystal Palace and Joel Ward (Crystal Palace) against Everton. Both players are handball in the penalty area when not close to the body but is in position to move, hands under shoulders and do not have time to react when the ball hit the hand.
Another case is the challenge for handball Doherty (Tottenham) against Southampton. This player's outstretched hand but not counted as errors by the ball hitting Harry Winks, then came at high speed should not react.
Meanwhile, the situation of Maupay touch (Brighton) against MU or Dier (Tottenham) against Newcastle will remain the decisive blow a penalty. Both handball in the passive position, but hands held up over the shoulder (calculated as unnatural).
This adjustment will be applied immediately in round 4 of the Premier League without a team through the tournament by following recommendations for the referee not to change the law. Of course, the old decision remains unchanged and the teams have no right to complain about the outcome of the game.