Recently, the site specializes in valuation Transfertmarkt world players have announced the top 10 most expensive signings current national league (Serie A). Accordingly, the huge surprise came when Romelu Lukaku (Inter Milan), not Cristiano Ronaldo or Paulo Dybala (top of champions Juventus) new leading player in terms of value.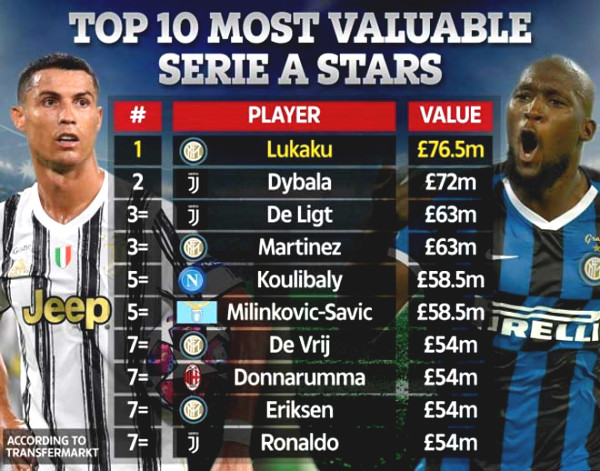 Lukaku lead, Ronaldo also ranked 7th in the list to take the most expensive player in Serie A (according to valuation from Transfermarkt)
Belgium striker Lukaku who is currently pricing Transfermarkt 76.5 million pounds, more than £ 3.5 million transfer fee that "Nerazzurri" each spent to have him from Manchester United last summer. Lukaku 4.5 million pounds less in this list is Paulo Dybala the best player in Serie A last season are priced £ 72.
The two lists are the same players were evaluated Transfermarkt 3rd high value current Serie A midfielder MATHIJS De Ligt (Juventus) and striker Lautaro Martinez (Inter Milan) as they are priced £ 63.
Only Dybala Lukaku and are priced higher than the Juventus midfielder De Ligt (63 million pounds) the current Serie A
Kalidou Koulibaly, Napoli midfielder is being rumored about to switch to Man City, was Transfermarkt current valuation at 58.5 million pounds, and ranked fifth in Serie A as central midfielder Sergei Milinkovic-Savic ( Lazio).
Quite shocked when Cristiano Ronaldo - superstar illustrious Juventus is now only valued at 54 million pounds, equal to goalkeeper Gianluigi Donnamumma of AC Milan and the pair of Inter Milan - central defender Stefan de Vrij and midfielder between Christian Eriksen.
Currently Ronaldo is still the highest paid player in Serie A with 28 million pounds / year, more than 4 outstrips other Juventus players in the top 5 is De Ligt (7.2 million pounds / year), Gonzalo Higuain (6.7 million pounds / year), Miralem Pjanic (also 6.7 million pounds / year) and Dybala (6.5 million pounds / year).