In the match between Union Berlin and Bayern Munich in the framework of round 26 Bundesliga last night, Lewandowski had opened the scoring for Bayern with a finish correctly on the penalty spot after 40 minutes, with style, shot "skipped ".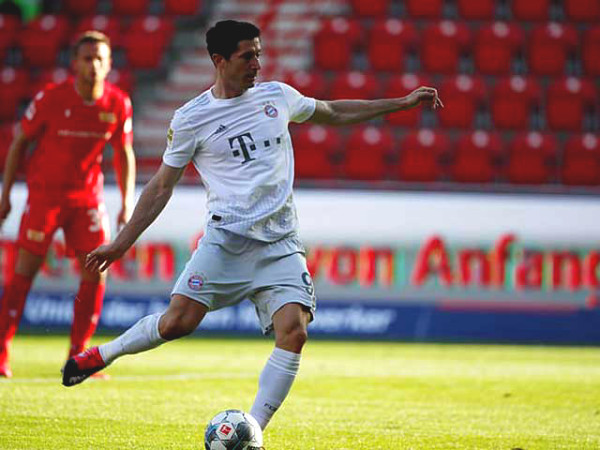 11m shot type "skipped" by Lewandowski
With this phase of striker 31 years has the 5th consecutive seasons (2015/16 to present) scored 40 or more goals in all competitions for "Bayern Bavaria". He also is the first in 5 leading European solutions on reaching 40 goals this season. This achievement is only 2 superstars Cristiano Ronaldo and Lionel Messi do since 2000.
Alone in the Bundesliga this season, Lewy had been 26 solid phase set and leading in the list of scorers. He was the 2nd person to get over 25 goals in Europe's top 5 prize this season. The first was Lazio's Ciro Immobile, who now has 27 goals. Besides, Lewandowski is still foreign players scored most goals Bundesliga history with 228 times the opponent scorer. 2nd man Claudio Pizarro is only 197 goals.
However, if you want to pass up on Messi and Ronaldo, Lewy need further efforts. The Portuguese superstar has scored 40 goals or more in eight consecutive seasons (2010/11 to 2017/18). Meanwhile, Messi is even better with 10 consecutive seasons (2009/10 to 2018/19). The season has not yet ended and "El Pulga" absolutely can improve this record to 11 consecutive seasons. Currently, the Argentine superstar has scored 24 goals in all competitions.
Still, the achievements scored by the Polish striker will certainly increase as the season is still quite a lot of games to go. One other milestone that Lewandowski is looking forward to is the 40 goals record of the legendary Gerd Müller in the 1971/72 Bundesliga season.
With a 2-0 win over Union Berlin last night, Bayern continue to build to make the top with 58 points, 4 points more than 2nd place team is Dortmund. Lewandowski's impressive form also helped Bayern coach Hans-Dieter Flick's become the team reached level 50 fastest goal league history Germany (after 16 games).