Real Madrid President was criticized for selling Ronaldo
Ronaldo joined Juventus from Real Mdrid in the summer of 2018 for 110 million euros. At Turin, the Portuguese superstar continued to show a remarkable scoring with 74 phases and 19 assists after only 96 matches. An interview of Goal, former Real Madrid president, Ramon Calderon criticized Florentino Perez for selling Ronaldo.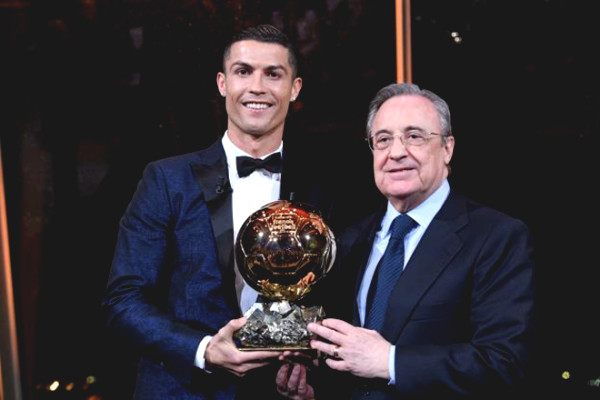 Ronaldo and President Perez (on the right) when he was wearing Real Madrid
"Selling Ronaldo is a huge mistake because he still shows in Italy that he is one of the best players in the world. Ronaldo always maintains a professional lifestyle and lifestyle that makes some players Compared with him, Ronaldo was a reincarnation of victory, so Real Madrid won continuously when there was Ronaldo, "Calderon said.
Messi is still in Man City's sights
ESPN sources said Lionel Messi was still in Man City's sightseeing in the context of the Argentine superstar contract with Barcelona will expire at the end of this season. The 33-year-old striker is allowed to be free to negotiate with any club in January.
Morata is banned from playing two matches
Morata was officially banned from playing two matches after the Red Card in Juventus's 1-1 draw against Benevento at the 9 Serie A. The Spanish striker will miss the Derby into Turin with Torino and away away Genoa.
Mourinho said no to Eriksen
According to Football Insider, Mourinho coach is not interested in bringing Eriksen back to Tottenham. The 57-year-old holder believes that his team has a lot of choices in the attacking midfielder and the Danish player is an unnecessary supplement. Eriksen left "Spurs" moved to Inter Milan in January last year but was not used by Coach Conte, when he pointed to 4 matches in every arena this season.
MU has not yet given Sancho
According to the source of ESPN, the Jadon Sancho of Borussia Dortmund is still in the top target list of MU. As a known, "Red Devils" failed to recruit young British stars during the last summer transfer because they could not meet the 108 million pounds of the German Club.