Juventus Battle - Dynamo Kiev
Although he was officially overcome the Champions League group, Juventus still played with a very strong squad in the reception of Dynamo Kiev. With home advantage, the "old lady" quickly gained control of the ball and pressed the representative of Ukraine right from the first minute.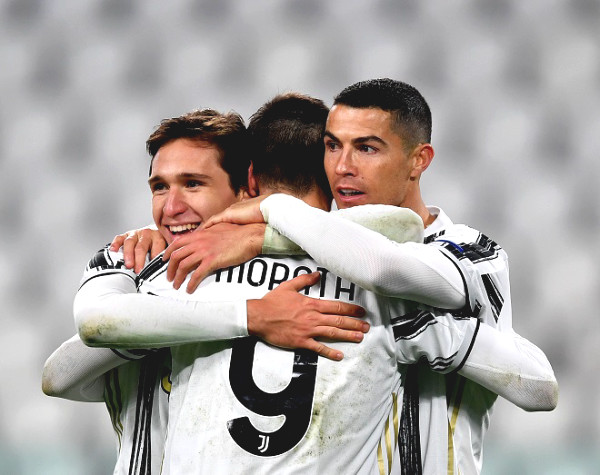 Ronaldo scored the 750th goal in his career
After a lot of consecutive injuries, Juventus also had a deadlock goal in the 21st minute and the scorer was Chiesa. As of 30 minutes, Ronaldo almost doubled the same way for the home team but the shot in the penalty area of ​​the Portuguese striker was crossed the crossbar. The 1-0 score is kept at all of the first half.
Going to the second half, Dynamo Kiev offers a squad to attack to find a equalizer goal. But while he was still trying to find the way into Szczesny's goal, the visitors had to receive the second goal. 57 minutes, Chiesa attempted to go on the right wing before performing uncomfortable broadcasting facilitates Ronaldo cushioning the ball into the empty golf.
The second goal makes the spirit of Dynamo Kiev players completely collapsed. By 66 minutes, Morata wrote his name on the score of a 3-0 victory for Juventus. This was the 6th goal of the Spanish striker in the Champions League this season.
This victory helps Juventus get 12 points but they still have to rank 2nd at Table G. in the same time, Barcelona also easily defeated Ferencvaros with the same ratio to continue leading Table G with 15 absolute points . Thus, the match between Barcelona and Juventus in the last match will determine the final end of the table.
Final score: Juventus 3-0 Dynamo Kiev (1st half: 1-0)
Scored:
Juventus: Chiesa 21 ', Ronaldo 57', Morata 66 '
Departure team:
Juventus: Szczesny, Demiral, De Ligt, Bonucci, Sandro, Chiesa, McKennie, Bentacur, Ramsey, Morata, Ronaldo.
Dynamo Kiev: Bushchan, Mykolenko, Popov, Zabarnyi, Kedziora, Shaparenko, Sydorchuk, Shepelev, Rodrigues, Verbic, Tsyganchov.
Match parameters