"Only Oblak were enough to replace De Gea at Manchester United": Recently, the legendary Manchester United - Rio Ferdinand has voiced cannon opinions criticizing David De Gea and called "Reds" gave goalkeeper young Dean Henderson from Sheffield Old Trafford instead.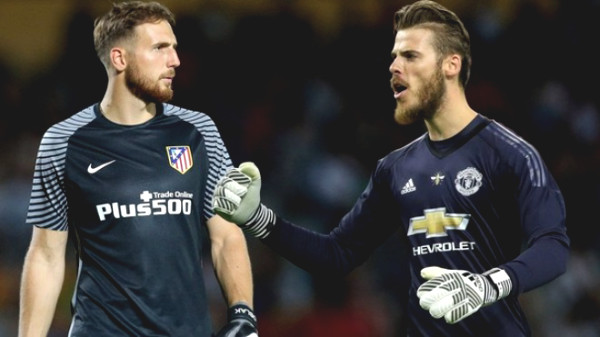 Ferdinand said Oblak is the only goalkeeper De Gea enough to replace at MU
Interview with BT Sport, Ferdinand affirmed not Henderson, the only one that can withstand the pressure replace De Gea Jan Oblak but still advised former team believes goalkeeper Spaniard: "You want to MU recruit anyone replace De Gea? Dean Henderson was too young, put their faith in him is like gambling. Prime the only one I saw enough to take the range of world-class in MU Jan Oblak but make what Atletico have to release him? and if any, Oblak is worth a lot of money. Let's continue to put their faith in De Gea. "
Juventus reach SAO Wolves by the representative of Ronaldo: Tuttosport says Juventus have secret contact with super "trigger" Jorge Mendes - agent of Raúl Jiménez (and Cristiano Ronaldo) to expedite the process to recruit money The Mexican. Earlier, payroll star Wolverhampton also reached the sights many "big" as Manchester United, Liverpool.
Aubameyang awaiting Barca speak: Mundo Deportivo revealed, contract negotiation process between Pierre-Emerick Aubameyang and Arsenal continue to be delayed, the reason for Gabon striker is waiting for an offer from Barcelona. Aubameyang will become a free agent in the summer of 2021, so Arsenal want to sell him soon to earn some money.
Beckham's team, Lee Nguyen record "appalling" in MLS: Inter Miami - team by former players David Beckham owns just received 0-1 defeat at home to New York City in Major League Soccer (MLS). Remarkably, it is 5/5 second failure to attend the first match of their MLS (scored 3 goals, conceding 8 goals), a record unmatched in the history of the tournament.
Inter Miami established in 2018, to play in MLS New season transfer period 2020. At the beginning of the season, they have successfully recruited football star of Vietnamese descent - Lee Nguyen.
British soccer player was killed for and mouth: Jordan Sinnott, midfielder who plays for the club Matlock Town of Division 7 He has been murdered on the night of 21/7 after a scuffle in a bar. According to Kai Denovan culprit, who was 25 years of age who decry appearance, leading to verbal and regrettable incident.