Sancho and Sane unintended German Super Cup
Two notable players of Bayern Munich and Dortmund are Jadon Sancho and Leroy Sane will not attend the Super Cup match in Germany (1:30, 1/10). According to the announcement of Bayern, Leroy Sane knee injury and need 3-4 weeks to recover. Meanwhile, Dortmund said Sancho and goalkeeper Burki flu. Both have been tested and are negative for Covid-19.
Leroy Sane and Jadon Sancho unintended German Super Cup
Eden Hazard is about to return
It was Zidane's coach disclose information to the media during a press conference recently. "I thought Hazard was very close to the date back. He had prepared certain and are well integrated in the training set of the entire team. Prior to that, he was not able to practice much because of injuries. That is a big problem, but I believe he is a Hazard by professional players.
Manchester City rookie caps 3
Ruben Dias midfielder has moved to Manchester City from Benfica will wear jersey No. 3 this season. Interview, the Portuguese players are fascinated by the new challenges. "It's really exciting to become a part of this team and play under the guidance of an excellent coach like Pep Guardiola.
He also had experience developing young players like me. I believe that we can improve ourselves at Man City.
Fulham's players support the coach Parker
Recently, coach Scott Parker frank "countered" the boss of the team Tony Khan. Fulham chairman has apologized on social networks after the previous 0-3 defeat to Aston Villa. According to the Daily Mail, the Fulham side with players and their coach feels Parker
Thiago Alcântara positive for Covid-19
Midfielder Thiago Alcantara joined Liverpool were determined positive for Covid-19 and has been quarantined at home. Thiago absence of Liverpool's 3-1 win over Arsenal last and he has shown signs of virus infection before but still in good condition. Known players have the right to allow the club announced his identity when Thiago was not infected with the virus and announced his opposition Liverpool Covid infection.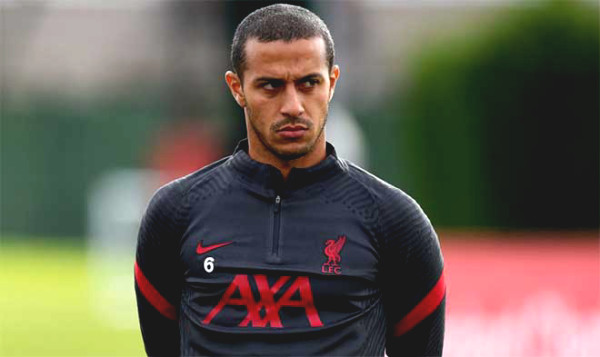 Thiago Alcantara
Suarez brilliance, Costa wants fair competition
In the first match of Atletico in La Liga, Diego Costa played well and was the opener. However, Suarez came and overshadowed all with 1 double and 1 line is shot created. But that does not make Diego Costa fret. In contrast, the former Chelsea striker affirmed that good for Atletico and he is ready to compete fairly with Suarez, aims to gain interest in soccer coach Diego Simeone's squad.
Suarez and Costa is the famous striker of Atletico
Coach Thomas Tuchel shopping urges PSG
PSG coach, Thomas Tuchel is expected the remaining days of the summer transfer window BLD team will add a few players. "I hope so. I want to believe it. You know the players we've lost," Tuchel said when asked about the potential deal. In summer 2020, PSG has parted with some pillars as central defender Thiago Silva, defender Thomas Meunier ...
Bayern hot eye because Barca & Star Netherlands
Sport newspaper revealed, Bayern Munich, Ajax felt "betrayed" the transfer of defender Sergino DEST. Even the Champions League champions said that the Netherlands and Barcelona team used "tricks" to help DEST move to the Nou Camp, instead of Allianz field team as the original contract of the parties.
Van de Beek been given the opportunity
As predicted by Joe Strange journalist on the Daily Mail, in a rematch between MU screen and Brighton within 4 League Cup round here rookie Donny Van de Beek will be given the opportunity to rock. In Round 3, when United won 3-0 Luton Town, Van de Beek also ranked soccer coach Solskjaer but did not leave much imprint. After the match was a contract worth 40 million pounds Manchester United have received some criticism for the faint of itself.