Chairman of La Liga Messi tribute
Javier Tebas La Liga president recently said he was very pleased when Lionel Messi decided to stay in Barcelona. "I'm grateful to Leo, he was part critical of football Spain in general and La Liga in particular in the last 20 years. Speaking to La Liga last 2 decades is to say to Messi" , Tebas said.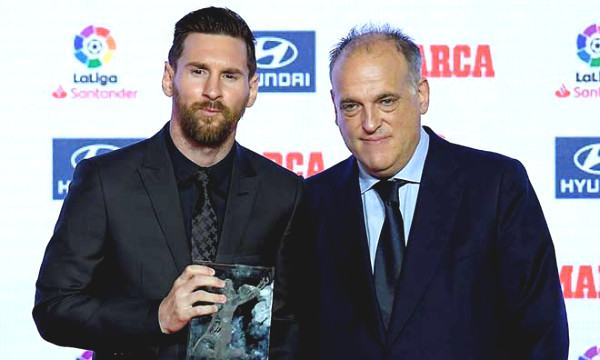 Messi and Javier Tebas president of La Liga
McKennie proudly launches Juventus
Rookie Weston McKennie launch date has moved from Juventus after Schalke 04 and he said he was very proud and optimistic. "It is a great honor when becoming the first American to play for Juventus. There is an opportunity to put on this shirt and represent our country in order to create hope for the exile made me very proud "McKennie said.
Besides this young midfielder said he spoke with coach Andrea Pirlo and understand their roles. "My strength is recovered the ball. I talked to coach Pirlo and he had envisioned for my role in the team," he said.
Colombia's former players decide questions of James Rodriguez
James Rodriguez goes to the next step of his career by moving to Everton led former star Faustino Asprilla Colombian attack expressed questions. The former Newcastle & Parma said: "I do not know James, he seemed all go backward. He left Munich because it was too cold, but he kept on the bench in Madrid, and now back to Liverpool where weather also cold. "
Falcao wants to retire in the US
Radamel Falcao was playing in Turkey but recently he said his desire is to be retired in the MLS MLS and especially for Miami Inter, the club of David Beckham. "In Miami there are a lot of Colombians and it reminds me of my hometown. After retiring from football, maybe I would buy a house in Miami and as a football agent," Falcao said.