Tottenham detect infected people Covid. Premier League organizing committee announced in 1197 Covid-19 test samples of the most recent, made a test sample is determined positive for the virus and that people of Tottenham. Currently people have been taken to isolate, but the club and the organizers refused to disclose the identity nor said an employee, member of the coaching staff or players.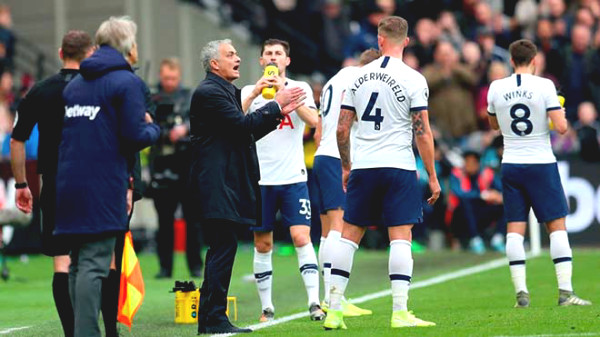 Tottenham have a Covid-19 cases after the most recent inspection
Man City want Ferran Torres. According to information from the Valencia winger Ferran Torres club Manchester City has been questioned asked to buy. The 20 year old City rated as the best fit for them to recruit before the upcoming split with Leroy Sane, who is expected to move to Bayern Munich.
German Football Federation fined not Sancho. FA Germany have officially announced that they will not have any penalties for the players Jadon Sancho, Marcus Thuram, Weston McKennie and Achraf Hakimi after 4 players with gestures to express support for seeking justice for George Floyd's death in the US.
Since this is the only elected political factors should be investigated in accordance with the German Football Federation rules, but they do not object and said they will not impose any penalty for similar actions in the future. George Floyd's death shocked the nation and also creates a stir in public opinion in Europe about the abuse of power by police and the problem of racism.
Newcastle Matty Longstaff invite renewed. Telegraph revealed just invited Newcastle midfielder Matty Longstaff new extension with a salary of about 20,000 pounds / week to stop him moving to Udinese. Worth mentioning is the wage proposals still extremely stingy while Udinese touted the more than £ 30,000 / week plus expenses bribe huge, enclosed opportunity for Longstaff returned to England kick for Watford because the two clubs share the same home. Longstaff does get extremely very measly salary £ 850 / week in Newcastle even though he is a brilliant midfield is the training club.
Simeone dying invaluable assistant. Marca said the club Atletico Madrid will bid farewell with Mono Burgos assistant head coach after this season ends. Dubbed the "madman" because of the impulsive and have quite extravagant, Burgos has worked as an assistant at Atletico since coach Diego Simeone took office nine years ago and appeared in all of the championship which Atletico won . Known Burgos go because they want to work and Atletico coach wishes that no objection.