Mourinho publicly want to let the League Cup
28/9 Tottenham tonight will be against Chelsea in the League Cup under Jose Mourinho but is unlikely bit hide his intention to let this match to concentrate on the game against Maccabi Haifa in Europa League took place on the night of 1/10 . "I also want to League Cup but on Thursday we have a game in an arena not as much money as the Champions League but that amount is still more important than the League Cup," Mourinho said.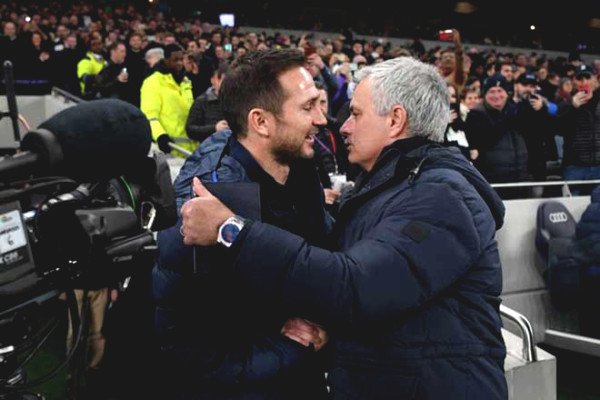 Lampard and Jose Mourinho met again tonight but likely that Mourinho will let
Lampard revealed problems Thiago Silva
Coach Frank Lampard said despite entrusted rookie captain Thiago Silva in the 3-3 draw with West Brom, but he knew Silva can not assume responsibility as possible in the first match in English football.
"I do not think the first game everyone can rock a smooth arrival but that is what we have known and have temporarily accepted. As for the language, then I think no matter what really, Thiago unknown language England squad but we have people who speak French, Portuguese and Italian to communicate with him, "Lampard said.
Bayern's David Alaba will leave next year
According to local news, defender David Alaba has been unable to reach an agreement to renew his contract with Bayern Munich should thus leave the club in the summer of next year in the form of freedom. Alaba recently has proposed salary increases and contract of 5 years, while Bayern only wanted to sign for 4 years and do not agree with the proposed salary.
Karius joins Union Berlin
Union Berlin club has officially announced that they get the services of goalkeeper Loris Karius from Liverpool on loan. Such as last year Karius will spend in his contract with Liverpool start a Bundesliga club instead of competitive position with Alisson & Adrian, and his chance at Liverpool is 0.
Portugal coach dreams of World Cup
Coach Fernando Santos would want in office with Portugal Tel to end by 2022 in an interview to the press in the country, he said his dream is to be the World Cup. "I want to win the World Championship, that's my goal and I think our team can do it," Santos said.