Scholes choose the best striker in the MU. In an interview for The VI of the Netherlands, Paul Scholes said the last he played striker at Manchester United, he thought Ruud Van Nistelrooy is number 1. "Cole, Yorke, Sheringham, Solskjaer and Van Persie, they are are excellent strikers. But Ruud is No. 1, I rock behind him and really could not fault anything at him, an assassin without hesitation in front of goal, "said Scholes.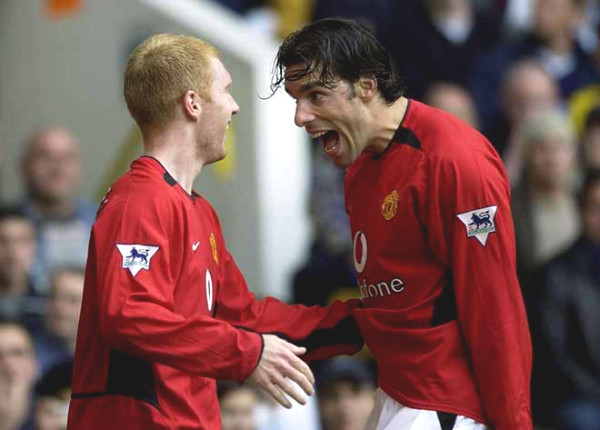 Scholes and Van Nistelrooy
Morata said "unfortunately have to play for other teams." Álvaro Morata in an interview to Marca made a statement that the strange when to kick in Real Madrid, Juventus and Chelsea are reluctant even his club Atletico always the closest. "Unfortunately I have to play for another club, but I always come from Atleti" Morata said.
Alves said Barca tray. In an interview to Marca, Dani Alves said he was very dissatisfied with their work to leave Barcelona in 2016 to go to Juventus. "It left Barcelona as a free transfer, it is a slap in the face rather formal," Alves satire.
Rooney said in his closing their skills. Talking about his playing career with the BBC his striker, Wayne Rooney said that although he is known to be a strong offensive player beats but really he's not an instinctive goalscorer. "I do not like Gary Lineker and Ruud Van Nistelrooy. Although I keep scoring record of England but I believe Harry Kane will get over it someday, "Rooney said.
"Fernando Torres would be an excellent coach." Former defender's famous Arsenal, Lauren said that Fernando Torres will be a top manager in the future when they, along with Rafael Marquez, Alvaro Arbeloa and Carlos Cuellar attended the course certification UEFA by the Football Federation of Spain held . "I think Fernando has a very clear mind, he likes to counterattack play, winning the ball and held at high speeds. And he is the accumulation of knowledge very quickly to achieve arrangements that play, "Lauren revealed.