Argentina and Brazil announce squad summoned
Two FA Argentina and Brazil announced the list of team convened its international eve upcoming match series. Brazil side, Gabriel Menino (Palmeireas) and Bruno Guimaraes (Lyon) has been convened for the first time when Alex Sandro in, Arthur, Bruno Henrique, Daniel Alves, Eder Militao, and Ivan Gabigol not appeared this time.
DT Argentine side, Lionel Scaloni coach has announced a preliminary list and Lionel Messi with Paulo Dybala, Lautaro Martinez, Lucas Ocampos, Giovani Lo Celso, Leandro Paredes & Nicolas Otamend are already known. Worth mentioning is the goalkeeper Emiliano Martinez will have the opportunity for the first time thanks capped good form at Arsenal, he has been summoned in 2019 but not in 2011 and came off the bench once.
Lewandowski is accused of tax evasion
German newspaper specializing in investigative reporting Der Spiegel has posted articles denounced tax evasion by Robert Lewandowski. In the article, a 7-digit amount that Lewandowski sent to the company managing your RL Management in Poland was used for personal purposes rather than submit to taxation in the country. Accusations come from Cezary Kucharski old manager, who did not collaborate with Lewandowski.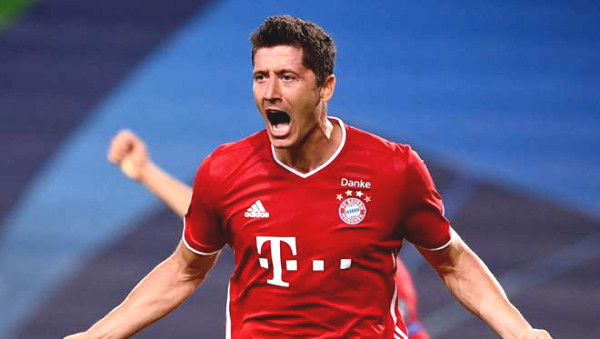 Robert Lewandowski
FIFA announced a new law on nationality
FIFA has announced officially that they adopted new regulations on the conditions for convening a national side. Whereby a player can change his team jacket if the current team they play only use them in unofficial Match 3 before to age 21.
Club World Cup organizing unlikely this year
According to journalist Rob Harris, the more likely the FIFA Club World Cup will not be held this year in 2020 due to the epidemic Covid-19 and pushed back the schedule of the European league. But if not held in Qatar in December, the new schedule of the tournament will not be far off when the month is expected to change to 1/2021.
Diego Godín joined Cagliari
Journalist Fabrizio Romano said Diego Godín has finished bottom club Cagliari accession agreement in the form of a free transfer, signing to 2023. Godin was Inter to liquidate the contract and after he left the team, Inter could complete latest recruit for Arturo Vidal from Barcelona.