"Rashford not simply a football player"
The Manchester United striker, Marcus Rashford was recently the first coach to lead him sing praises. According to Dave Horrocks, the coach's first training Rashford at Fletcher Moss Rangers oven, Manchester United star is not just a football player.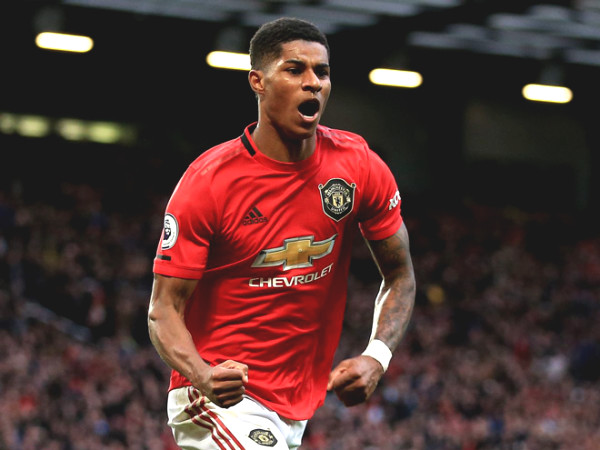 Rashford is one of the most beloved stars at MU
"Rashford not simply a football player playing in the Premier League. He is a symbol that every child toward" - Dave Horrocks confirmed. England striker Marcus Rashford supposedly football star's biggest contribution during epidemics raging Covid-19 in England.
MU considering the possibility of selling the Brazilian midfielder
According to the British press, Man United are considering the possibility of selling midfielder Andreas Pereira took the young stars of Ajax, Donny van de Beek in this summer. Mirror newspaper revealed, "Reds" were willing to split with Brazilian midfielder Pereira when it does not meet the expectations of the coach Ole Gunnar Solskjær. The newspaper also said that midfielder Van de Beek would be the appropriate name for Manchester United when he was only around 44 million pounds.
Newcastle want to buy young stars of Benfica
The Daily Mail reports that Newcastle United have contacted Benfica midfielder Luis Florentino about winning the services of the player in the following season. However, the deal was suspended due to the acquisition agreement "Injecting Choe" for 300 million pounds of Arab billionaires still not complete.
"Aubameyang'm happy"
Arsenal head coach, Mikel Arteta made a statement about the future of top stars, Pierre-Emerick Aubameyang. Accordingly, the strategist Spaniard confirmed Aubameyang still happy at Arsenal. Besides, Arteta admits the team has won the Champions League next season tickets or not would be an important condition for many pillars consider his future at the Emirates.
Manchester City captain is about to join the league of Qatar
Veteran star of Manchester City midfielder David Silva is seriously considering signing the contract with Qatar club Al-Duhail. After 10 years of war at the Etihad, Manchester City's David Silva will leave when the season ended. If to Qatar, Silva could be reunited with compatriot Xavi, who is now head coach Al Sadd, Al-Duhail rival league of this country.
Thai Son Nam champions drew Partially futsal within 1 award 2020
Afternoon and evening 15/6 2 matches took place late plays first match under UEFA Futsal League champions 2020. Partially HDBank Thai Son Nam was unable to get all 3 points before the intensity of Kardiachain excavation Saigon.
Minh Tri opener for Thai Son Nam by processing phase and finish level after 11 minutes, however, the defending champion did not take advantage lead to increasing distance ratio though the game was created with more dominating part. Arrive 38 minutes, the efforts of the new Saigon Kardiachain be rewarded with a finish of captain access Hoang Nam, following a full-scale attack scenarios power-play. This is also the final score of the match.
1-1, champions Thai Son Nam forced to accept temporary loss of advantage in the race at the starting line before two rival Savinest Sanna Khanh Hoa and Sahako. In today's match at 16h00, Thai Son Sahako defeated North 6-1