Luis Suarez could leave Barcelona
According to Bein Sport, Qatar club Al-Arabi's willing to recruit Uruguayan striker, Luis Suarez even in summer. Currently, the contract of former Liverpool player with Barcelona only one year (included terms automatically extended for another 12 months) but the Camp Nou not intend to renew his contract. Luis Suarez cause is by now aged 33 and difficult to retain top level.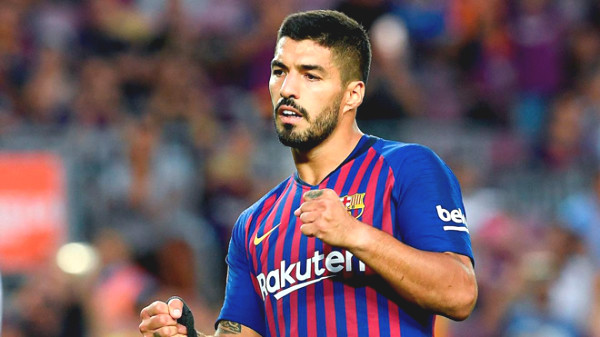 Luis Suarez could leave Barcelona this summer right
Matuidi officially joined Inter Miami
Miami Inter, the club playing in the MLS (MLS) president David Beckham has successfully recruited midfielder Blaise Matuidi as a free transfer. Previously, players play Juventus from 2017 until now after leaving PSG. Matuidi and Beckham had a short time of each other as allies in Paris and president of the Inter Miami was very glad to reunite with old friends.
Jan Oblak left open future
According to Sky Sports, goalkeeper Jan Oblak revealed yet decided his future and only considered after the completion of the Champions League campaign with Atletico Madrid. Currently, Slovenia's goalkeeper transfer target of many European giants such as Chelsea now, MU ... However, Atletico Madrid resolutely sold only at the price of 120 million pounds.
Representatives of Star Sporting CP denies rumors about Arsenal
"Super" Kia Joorabchian is also representative of young talent Joelson Fernandes has denied rumors about Arsenal. "Some days, I know rumors Arsenal have received an offer from Arsenal. He's young and possesses talented football genius. However, we will never negotiate with Arsenal." Born in 2003 but only break the contract fee of Joelson Fernandes is 45 million pounds.
England goalkeeper fell
Jack Butland England goalkeeper at the 2018 World Cup and the club Stoke City were determined to keep the £ 30 million at that time. However, according to the British press, the Stoke City have "great discount" and just want to get 8 to 10 million pounds for the deal. The reason is because of Butland contract with the club only a year and the player can go freely into the next season.