"Blockbuster" Arsenal call themselves the "octopus"
Rookie "blockbuster" of Arsenal, Thomas Partey insists he has spoken often friends called "Octopus" because of this sea creature tattoos. Besides, the play of former Atletico Madrid star is also said to have similarities with this nickname.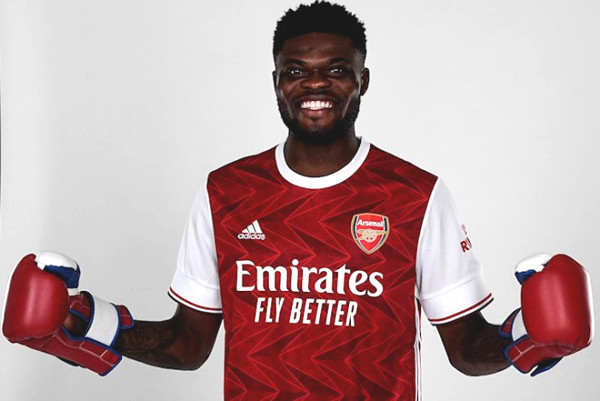 Partey confident with their own nickname
Specifically, Partey midfielder very hard to move and clinging to extreme irritation. Physical strength helped Ghana midfielder often winning multiple duel and he promises to be a quality signing for Arsenal.
De Gea to release information to ask for more before the new season
According to The Athletic, a source close to De Gea said goalkeeper MU phoned goalkeeping coach of the U21 Spain - Miguel Angel Espana to be able to practice a few days at the headquarters Football Federation Spain Houses before the season started.
De Gea admits he wants to improve before the return of Dean Henderson. Then the star's wishes were met.
Premier League organizing committee rejected the new proposal of Manchester United and Liverpool
Recently, the organizers Premier League has rejected suggestions Manchester United and Liverpool for the project "Big Picture". Specifically, the project includes many reform proposals, such as reducing the number of teams in the Premier League from 20 to 18, deaths League Cup and FA Community Shield, allocate sales of television rights in order of ranking.
Whatever will help the team in no small benefit of expertise but BTC Premier League said that the changes are too large and not feasible at this time.
Wenger revealed the truth about the deal Arsenal asking for Suarez
Arsene Wenger shared the deal unsettled by Luis Suarez from Liverpool in the summer of 2013 at a price of weird. "Before the season 2013/14, we (Arsenal) Luis Suarez wants to bring about. We have reached an agreement personally. His representative told that his contract with Liverpool forced to release terms of people if there is an offer on 40 million pounds "- Wenger shared.
"To test whether true or not, we have given $ 40 million in retail 1 table. I also see this as a suggestion laughable. Liverpool when it does not want to sell Suarez, they can hold him to later sold to Barcelona with better prices "- the strategist adept Frenchman added.