The decision to cancel the 2020 Golden Ball France Football synonymous continue Messi held the record of this title with 6 times on the podium steps.
This is probably going to add excitement for the Argentina striker before entering competitions with rival Ronaldo in the arena cup C1. Currently, Cristiano Ronaldo after the 2nd consecutive Scudetto Juventus raise the trophy is heading to the European arena with the highest determination.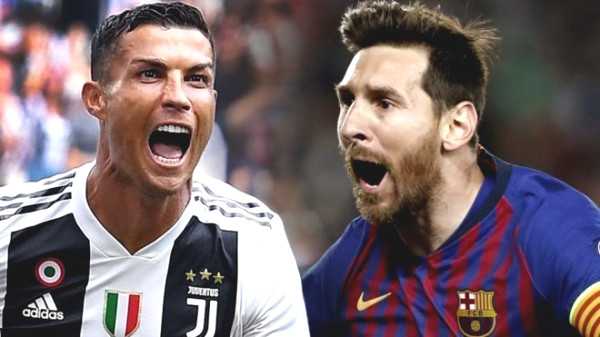 The fight Ronaldo - Messi
Opportunities are shared equally with both superstars most outstanding football world for over a decade. But based on the statistics of Whoscored, fans can assess Ronaldo and Messi overview, see who better than anyone before the official Champions League return.
One thing too well, Messi Ronaldo was in the lead 1-0 in the title this season. After being eliminated from the King Cup and La Liga championship loss, the Argentine striker who also witnessed rival Ronaldo crowned with Juventus in Serie A
Regarding goals, the Portuguese superstar also proved more dominating with 31-phase set, while Messi has 25 goals in only domestic arena. On the Golden Boot standings European race, 3rd Ronaldo, Messi still ranked No. 5.
However in the ability to create, Ronaldo underdog than M10 pretty much the ratio is 5-21. It can be seen in the past season, the Argentine striker had to assume many of the roles in the team as he is a striker of Barcelona, ​​just a leg "indirect" for the team.
Therefore always have to carry the team almost every game, Messi has always been very high scoring when Barcelona won. The average age of the 33 received 8.71 points / games, Ronaldo only 7.82 points / match. This is most obvious statistic speaks influence of two players for each team at the moment.
Next to the award Man of the Match (The hero of the game), Messi also proved the superiority when there are up to 22 times the prize this noble in La Liga, while Ronaldo is 10 times at the highest league Italia .
Finally an index no less important is the performance of Ronaldo and Messi scored to date now. Messi took 115 minutes specific to one goal, but Ronaldo took just 94 minutes brought about a phase set.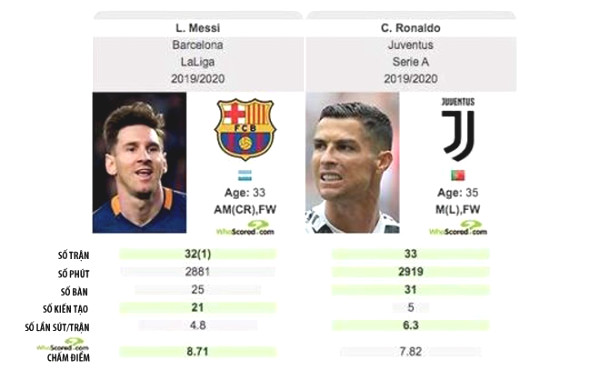 Messi and Ronaldo's statistics 2019/20 season under Whoscored
In conclusion after a lot of numbers and statistics, it is clear between Ronaldo and Messi battle has yet to go to the end. And this will help for the Champions League next tournament takes place extremely attractive when two leading superstars are still willing to break the limits of yourself to glory once more.