MU entered the 16th Premier League with a high determination. "Reds" have the opportunity to climb the second place on the rankings, if wins Wolves. Even so, the big goal caused homeowners to become stressed and the gameplay was no longer elegant.
MU (red shirt) Efforts to defeat Wolves
But after all, MU still surpassed Wolves with Marcus Rashford's late goal. At the moment of compensation, the score was still 0-0, the British striker shone with the preparation phase with a lucky part. As a result, "Red Devils" win a suffocation.
Thus, MU temporarily climbed to second place with 30 points. Having been "red demon" also received 2 good news. In the previous match, Leicester City was held by Aston Villa 1-1. In addition, the match between Everton and Man City was postponed. This allows the students of Coach Ole Gunnar Solskjaer to take the second goal longer.
And what mu fans are most concerned at the moment, which is the middle point and the Liverpool board top. At this point, MU is only least the championship in the championship with 2 points. Maybe Liverpool has not played in this 16th round (as a visitors at Newcastle at 3:00 on December 31, Hanoi Hours), but the two teams are now in the same number of matches because MU is in the first round with Burnley.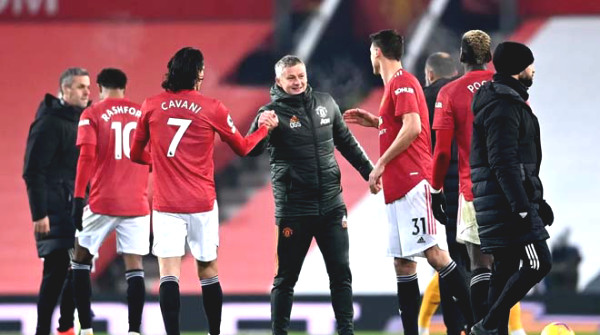 Coach Solskjaer's team temporarily climbed to second place on the English Premier Rankings
Although he climbed to second place, MU did not have time to "breather". Because the opponents chase them still very close. After Liverpool and MU are Leicester, the team also has 29 points, ie only less "red demons" right 1 point. Everton also 29 points but their match in this 16th round with Man City was postponed.
In the top chasing, Aston Villa ranked fifth with 26 points but this team played 14 matches. If the match is full of matches, Jack Grealish and his teammates can also heat the nape of MU. There are 4 teams with the same 26 points, Tottenham, Man City (with the same round of 16), Chelsea and Southampton.
In the next round, MU will have a difficult match with Aston Villa, the team is extremely high in this season. This match takes place at 3:00 on January 2, 2021. And then there, "Red Devils" have a semi-final League Cup with Man City at 2:45 on January 7. The very heavy schedule is waiting for Coach Solskjaer's team and this is the time to "Red Devils" showing the bravery and ambitions of the British Premier League.
Premier League rankings temporarily