Today 16/5 past, the Bundesliga has caused both admiration when Europe became the first tournament in the top 5 leading European league held back matches in season Covid-19 service breaks after 2 months.
Leagues Domestic attractive in the top 3 in Europe (along with the English Premier League and La Liga, the assessment scores of UEFA) despite playing in a state of the stadiums are not spectators, but still demonstrate especially attractive and equally pleasant surprise.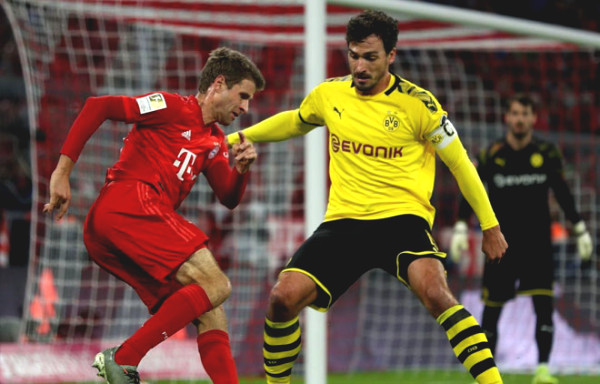 Bayern Munich and Borussia Dortmund battle prep "the classic Super Germany"
Despite predicted difficulties in Rhur regional derby in the Bundesliga round 26 last week but was second-placed Borussia Dortmund 4-0 victory jubilantly rivals Schalke 04. neighbors "Assassins" was 19 Erling Haaland continues to demonstrate the danger with opener and contributed 1 assist in a banquet in "pan fire" westfalenstadion.
Defending champion Bayern Munich also showed strength with a double from Robert Lewandowski superstar to pass march to Union Berlin as the German capital.
Gap between "Bayern Bavaria" and the second-placed Dortmund are still 4 points and they will enter the trials are extremely important to come before confronting each other in the game "Super classic German" (Der Klassiker ) in round 28 Bundesliga between weeks later, at 23h30 at 26/5 (now Vietnam).
Earlier, in round 27, at 20:30 the day 23/5, Dortmund will make another guest a former King of the football Germany - "Blue Wolf" Wolfsburg. 3 hours later, Bayern Munich will be playing at home Allianz welcome Eintracht Frankfurt.
Borussia Mönchengladbach - team has won 3rd place in the standings of the Bundesliga RB Leipzig previous round will face difficulties when meeting at 20:30 the day 23/5 Bayer Leverkusen. RB Leipzig also do guest Mainz 1 day 05 then right.
Does Bayern Munich have been narrowing the gap in Dortmund before the game "Super classic German" coming? RB Leipzig Leverkusen or whether captured 3rd place of Monchengladbach? Please look forward to this weekend's Bundesliga round 27 to answer questions that interesting?
Schedule specific Bundesliga round 27 this weekend: