Complete 10 matches of Round 38 Premier League 2019/20 will take place at 26/7 days 22h (GMT). There, the attention of the fans towards the two struggles: Leicester - Manchester United away King Power, and Chelsea - Wolves at Stamford Bridge.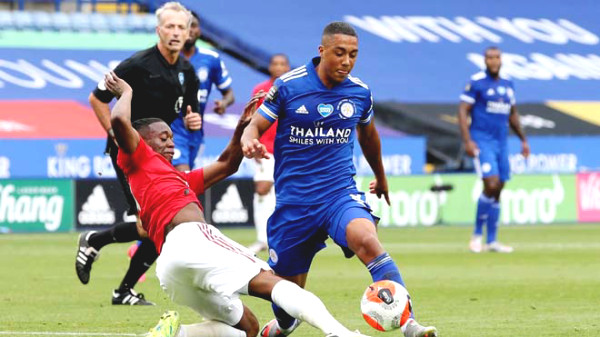 MU (red shirt) played very effort against Leicester
Two direct this match determined two remaining tickets to the Champions League next season. MU advantageous course than Leicester, because they only need a draw is enough. Meanwhile, Chelsea and Leicester needs a victory to ensure presence in the most prestigious playground Europe next season.
Also by this context, Leicester forced to attack, while Manchester United have the right to play slow and sure. Great battle took place at King Power movements with the ball and extremely suffocating. Only when Bruno Fernandes to open the scoring for Manchester United on penalties, after Martial Jonny Evans was fouled, the pressure to "Reds" new reduced somewhat.
Keep the fruits 1-0 until the last minute and even tables set 2-0 victory in injury time with a goal from Lingard, MU official return to the Champions League after one year absence. Even the "Reds" has completed the top 3 goal as Ole Gunnar Solkjaer set. Meanwhile, the 0-2 home defeat that dropped the ticket Leicester regrettably Champions League.
Had at Leicester seemed to make interest in the top 3. However, the worst performance in the post stage Covid-19 has made them lose the ticket. Because in the game at the same time, Chelsea were not too hard to beat Wolves.
Final after round 38 - round closes 2019/20 Premiership, Manchester United and Chelsea holding hands, going Champions League 2020/21. "Reds" ranked third, behind Liverpool - champion with 99 points and Man City - runner with 81 points. Chelsea finished fourth, with the same 66 points as MU but inferior to the difference (+15 compared to +30 MU). Leicester ranked fifth with 62 and pity Europa League.
Especially in the last round, the Wolves lost by Chelsea while Air Tottenham Crystal Palace, the official Tottenham beat Wolves to sixth, despite the 59 points, but more in the difference (+14 Tottenham, Wolves +11) . Thus, Jose Mourinho's side regained the Europa League next season tickets, with Leicester.
Charts Premiership 2019/20